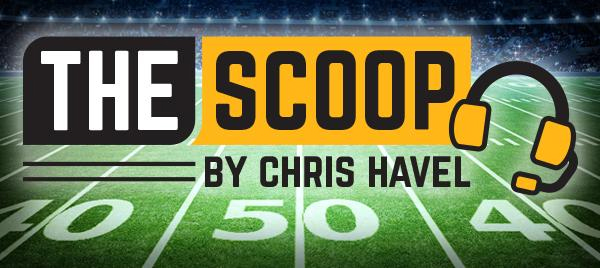 By Chris Havel
Special to EVENT USA
GREEN BAY, Wis. – Christian Watson's future is now.
The Packers' rookie receiver burst onto the scene early last month and has never looked back … unless it's to glimpse another would-be defender trying to catch his breath after failing to catch him.
Watson's two-touchdown performance highlighted the Packers' 28-19 victory over the Bears on a sunny Sunday afternoon at Soldier Field.
Watson's 14-yard touchdown catch whittled Chicago's lead to 16-10 with 17 seconds to play in the first half. The Packers trailed 10-0 early.
Then, Watson's 46-yard fourth-quarter gallop on a perfectly executed jet sweep and Marcedes Lewis' catch for the two-point conversion put the Packers up by nine with less than two minutes to play to seal the deal.
While others may marvel at Watson's speed the touchdown machine takes it all in stride, so to speak. While his exploits are new and thrilling to Packers fans, he's been outrunning defenders his entire life.

"To be honest, if I see nothing in front of me, it's looking pretty good," Watson said. "Honestly that's exactly what I saw: I saw no one. I saw the corner go in with Sammy (Watkins) on his little crack block and I knew if the corner's not coming off there's no one that's going to make the play from the inside."
Translation: Even with the angle nobody can lay a glove on him.

"That man got some burners," Packers' running back Aaron Jones said of Watson. "He can do it all. It just helps us. It gives us so many options. It keeps us versatile. I love having a weapon like that. Any time he touches the ball, he has a chance to take it to the house."

Aaron Rodgers seemed to relish his front-row seat to Watson's feats.

Rodgers completed 18 of 31 passes for 182 yards and the touchdown to Watson. He wasn't sacked and scarcely hit. He had an 85.7 passer rating and an abundance of praise for Watson.

"It's a rapid, wild development," Rodgers said. "It's hard to think about another player who goes from being kind of a here-and-there, minimal production to go-to type player, home-run player."

Watson has eight touchdowns in four games. He is the first rookie receiver to accomplish the feat since Randy Moss did it in 1998.

Packers head coach Matt LaFleur was happy for Watson.

"It's so cool to see guys respond in these moments, and then once you see confidence, once he's gained confidence, to see him take off. I'm just really proud of him," LaFleur said. "He's a smart guy that works his tail off. It means a lot to him. I think it's cool to see the other guys – they have confidence in him as well. It's just a really cool story."

Watson had three catches for 48 yards on six targets, but his presence was felt even when he didn't catch the ball. He drew a 38-yard pass interference penalty on the first play of the fourth quarter. It set up A.J. Dillon's 21-yard touchdown run that cut the Bears' lead to 19-17.
The Packers trailed 10-0 early when Justin Fields raced 55 yards for a touchdown on the Bears' opening drive. They tacked on a field goal on their next possession and the Packers could've caved in.

Instead, the defense figured it out and the offense turned it on by scoring 18 fourth-quarter points to rally for the win.

"Just super proud of our guys to be resilient and truly embody and embrace that one-play mindset and battle right to the end," LaFleur said.

The Packers (5-8) have their bye this week. It should allow Rodgers' ribs to completely heal. The quarterback said his broken right thumb is almost a non-issue at this point.

Green Bay's offensive line had Zach Tom at left tackle after David Bakhtiari was ruled out Friday due to an emergency appendectomy. Tom wasn't perfect, but he played well enough to keep Rodgers clean.

"The line played really good today," Rodgers said. "I moved around a decent amount … and I went to the ground one time. So that's like a dream game for somebody in my position with a pretty sore rib cage. I feel good going to the bye week that maybe both of these things (the ribs and the thumb) will be behind me."

The Packers rushed for 175 yards on 32 carries. Dillon was the lead dog with 18 carries for 93 yards and the touchdown. Jones added just 26 yards. He left with a bruised shin in the first half, but returned in the second half. He said Dillon had the hot hand so they rode him.

"When a dog is being a dog let the dog be the dog," Jones said with a smile. "I told (Dillon) that. I told him I'm proud of him, as well. He stepped up. I believe he's getting better and better. I'm proud of him."
The Packers' defense forced three turnovers, including a pair of fourth-quarter interceptions – first to enable the comeback, and then to seal it.

After surrendering big plays to Equanimeous St. Brown for 56 yards in the first half, and to N'Keal Harry for 49 yards in the second half, Jaire Alexander remained undaunted.

Alexander stepped in front of Brown to intercept Fields with less than three minutes to play. Then Keisean Nixon notched the first interception of his career on the Bears' final possession.

LaFleur wasn't surprised by Alexander's bounce-back ability.

"I just think that shows his mindset," LaFleur said. "He's going to go out there and compete, and sometimes he's going to take a chance and he might get beat on it, and that's just the way it rolls. As a corner, especially in this league, you have to have a short memory, and certainly I think Ja does. He goes out there and battles."

The Packers' comeback win moves them ahead of Chicago for the most wins in NFL history with 787. According to ESPN, the Packers are the first team other than the Bears to own the outright lead since the Buffalo All-Americans with 18.