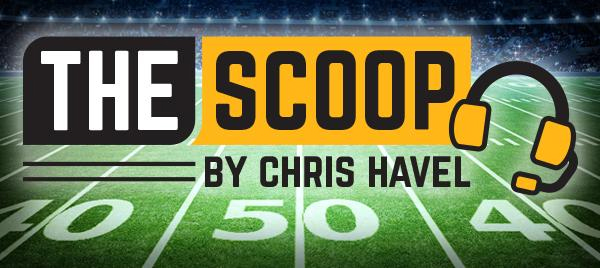 By Chris Havel
Special to EVENT USA
GREEN BAY, Wis. – The Packers pounded out a must-win 24-12 victory over the Rams on Monday Night Football at snowy Lambeau Field to keep their feint playoff hopes alive.
Green Bay (6-8) wants nothing more than a do-or-die chance to prove itself against a playoff-caliber team on the road. For better or worse, the Packers won't have to wait until the postseason to get their wish.
The Packers travel to Miami to face the explosive Dolphins (8-5) in a Christmas Day game Sunday at Hard Rock Stadium.
"We know that we're in a one-game season from here on out, from here until the end of the year," Packers coach Matt LaFleur said. "So we've got to take care of business."
That begins with a singular focus on the Dolphins. The Vikings (11-3) and Lions (7-7) will have to wait their turn.
Aaron Rodgers acknowledged the Dolphins will be a great challenge, but he didn't dismiss the Vikings or Lions, either.


"They're all good football teams," he said. "Miami's playing for the playoffs. Minnesota's obviously division winners and coming off a big win. Detroit's won, what, six out of seven, they're playing really well. So it's going to be three difficult games."
The Packers' odds of reaching the playoffs rose to 12.2 percent if they manage to win out.
Meantime, they dispatched the defenseless Rams in convincing fashion.
Los Angeles (4-10) mustered a season-low 156 yards in total offense, the fewest since head coach Sean McVay took over in 2017. The one-week curiosity that was Baker Mayfield after his stunning debut in a 17-16 upset of the Raiders last week predictably came back to earth.
More precisely, Mayfield came back to the Frozen Tundra repeatedly as the Packers' defense abused an injury-racked offensive line. The Packers sacked Mayfield five times and created constant chaos.
Mayfield's night can be summed up like this: Aaron Rodgers completed more passes (22) than the Rams' quarterback attempted. Mayfield finished 12 of 21 for 111 yards with one touchdown and an interception. He fell short of the "seven interceptions" predicted by the Packers' Jaire Alexander, but he was hit early and often by Preston Smith and Co.
Smith had two sacks while Quay Walker and Kingsley Enagbare had one each. Devonte Wyatt and Justin Hollins shared the other sack.
Smith said the answer was simple: Playing together as one unit.
"Everybody was just doing their job a high level," he said. "A lot of guys were benefiting tonight. We had five sacks as a defense. We were all on one accord tonight. We were playing at a high level in every phase. I feel like we were doing that pretty well, and guys were just maximizing off of the opportunities."
LaFleur also liked what he saw from his defense.
"That's what we need moving forward," he said. "Certainly going down to Miami I think Tua (Tagavailoa) has been playing great. They've got a very, very, very explosive offense, a very creative offense, and it's going to be critical for us to get pressure on the quarterback in order to give us an opportunity to win the game."
The Packers' offense looked pretty good, too.
Rodgers was 22 of 30 for 229 yards with one touchdown and an interception. He was sacked three times and posted a 92.2 passer rating.
The Packers' opening drive was promising, but Rodgers retreated like a scared rabbit on third-and-goal at the 5 and was sacked by Leonard Floyd. Green Bay settled for a 34-yard Mason Crosby field goal.
Their second drive ended in an interception when Rodgers and Allen Lazard weren't on the same page. The mistake led to an easy pick.
However, the Packers got it going to open the second half.
Green Bay marched 68 yards in 11 plays to score its first opening-half touchdown in the past 21 tries. A.J. Dillon capped it with his second touchdown of the game, a 1-yard blast through the Rams' midsection.
"I like how we came out in the second half," Rodgers said. "That first drive was really important, seven minutes, touchdown (and go) back up by two scores. That was winning football, and we haven't really done that consistent enough throughout the season."
The Packers' balance was tremendous with 35 carries out of 68 snaps. Aaron Jones led the way with 90 yards on 17 carries and Dillon added 36 yards on 11 carries and the two touchdowns. Jones also caught four passes (in five targets) for 36 yards and the Packers' final touchdown of the game, a 7-yard grab from Rodgers to seal it.
Rookie receivers Christian Watson and Romeo Doubs also had strong performances. Doubs caught five passes (in five targets) for 55 yards, and Watson added four grabs (in six targets) for 46 yards.
"Romes has always been a bit more polished as a route runner," Rodgers said. "Christian is just so explosive."
Watson's touchdown streak ended at four games, but his mere presence influenced the Rams' defense to play "Cover 2" – a two-deep, five-under zone – which invites short passes but prevents big plays.
That's in theory at least.
The Packers' offense stayed patient – which is to say Rodgers stayed patient – and the run-pass balance was outstanding.
"They basically played a lot of two-shell," Rodgers said. "If we've got to throw with the quick game and run the football to win, we'll do that."
The Packers' future Hall of Fame quarterback said last week that the cold weather was Green Bay's friend. That didn't keep him from admitting he's looking forward to playing in warmer temperatures.
"It's going to have to be a really good effort to go out there and win (at Miami)," Rodgers said. "It'll be a nice weather change. Nobody's going to be bummed that it'll be 40 or 50 above what it is, at least, maybe 50 or 60 above what it is right now. We'll be looking forward to getting back home to some cold weather and hopefully we'll be 7-8."