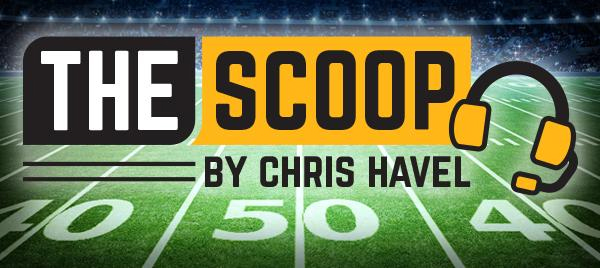 By Chris Havel
Special to EVENT USA
GREEN BAY, Wis. – The Packers scored 14 first-quarter points on a kick return and an interception return to set the tone.
Green Bay's defense did the rest in an old-fashioned 41-17 blowout of the Vikings on a most delightful New Year's Day at Lambeau Field.
All of that makes possible one more fantastic return: A Packers' return to the playoffs for a fourth straight season by beating Detroit (8-8) on Sunday in Green Bay. No game times were set as of this writing, but the Packers-Lions game will be played on Sunday.
The notion of the Packers (8-8) advancing to the postseason was laughable at 3-7, but after wins in five of six – including four straight – Green Bay finally, amazingly, controls its own destiny.
Packers head coach Matt LaFleur appreciates the opportunity.
"Talk about a play-in game," he said. "The stakes are going to be high."
LaFleur said he respects his players for staying with it in tough times.

"You can sit there and preach whatever you want, but they've got to buy into it and that's a credit to the guys in our locker room," he said. "And I've always said it and I think (GM Brian Gutekunst) and his staff do such a great job of bringing in high character people that in times of adversity you find out what you really have, not only from our coaches, our players, but really everybody in the building. And I think everybody stuck together. I never felt at one point there was any finger-pointing. So that is a credit to everybody in our organization."
The Packers knew before Sunday's kickoff that they would control their fate with a win, thanks to Cleveland's 24-10 victory over Washington.
Browns quarterback Deshaun Watson threw for three touchdowns despite being sacked five times. It won't earn Watson a "key to the city" ala the Cardinals' Nate Poole back in the day, but it's still appreciated.
Meantime, the Packers' defense rang in the New Year by ringing Kirk Cousins' bell … repeatedly. There was so much banging and clanging of the Vikings' quarterback that Quasimodo would've been proud.
Cousins committed four turnovers, all of which led to Packers' points.
After the teams exchanged possessions at the outset, the Vikings blocked a Pat O'Donnell punt and recovered it at Green Bay's 1-yard line. After three plays that totaled minus-1 yards, they settled for the field goal.
Fueled by a Packers' defense playing its best football of the season, the Vikings' next seven possessions were a study in futility: Punt, "pick six," missed FG, interception, missed FG, fumble and interception.
Kenny Clark posted a third-quarter hat trick when he sacked Cousins to force and then recover his fumble.
That led to A.J. Dillon's 2-yard touchdown run to make it 34-3.
Darnell Savage, Adrian Amos and Rudy Ford recorded the interceptions.
Savage's was the most spectacular of the trifecta. He gathered in a pass intended for T.J. Hockenson that was deflected by Rasul Douglas, picked up a few blocks and weaved 75 yards for the score.
It went from Vikings 3-0 to Packers 14-3 in the blink of an eye.
Amos' second-quarter interception set up Aaron Rodgers' 24-yard touchdown pass to Robert Tonyan. The Packers' tight end ran a beautiful corner route and Rodgers hit him in stride to make it 24-3.
Ford's fourth-quarter pick set up Rodgers' 2-yard touchdown run in which he waltzed into the end zone untouched.
That made it 41-3.
The Vikings tacked on two meaningless touchdowns and Jordan Love completed two meaningless passes to wind down the thrilling affair.
Clearly, Green Bay's defense led the charge.
"I think this is the way they expected to play for much of the season," Rodgers said of the defense. "It hasn't been the way that they've played the entire time, but when you're playing ball in December and January, the most important thing when you're talking playoffs … you want to be playing the right way and you want to be healthy.
"And if you look at our squad, outside of Rashan Gary, we're pretty healthy and we're playing the right way."
Rodgers wasn't brilliant but he didn't have to be.
He completed 15 of 24 passes for 159 yards and the TD to Tonyan. He was sacked just once, didn't commit a turnover and posted a respectable 95.7 passer rating.
Aaron Jones keyed the offense with 111 yards rushing on 14 carries for a robust 7.9 average per carry. Dillon added 41 yards on 12 carries.
The Packers played clean football with no turnovers and only three penalties for 30 yards. They converted seven of 12 third-down tries (58.3 percent) and spread the football around.
Allen Lazard led the way with five catches for 59 yards. Tonyan had three for 52, including the 24-yard TD grab, and Romeo Doubs (three) and Randall Cobb (two) combined on five catches for 40 yards.
Christian Watson played sparingly and had one catch for 11 yards.
But on this day, with the Packers' defense playing dominant football, Green Bay didn't need the big-play dynamic to notch the win.
Jaire Alexander and the secondary shadowed Justin Jefferson no matter which way he turned. The Vikings' splendid receiver finished with one catch for 15 yards. Adam Thielen had one catch for 16 yards.
And Cousins outrushed Dalvin Cook, 37-27, on six fewer carries.
It was Vikings ugly at its finest.
For the Packers, it looked the way most observers thought it would in what has been a stressful yet somehow atisfying season.
This might be LaFleur's best coaching job in four seasons.
It certainly was filled with the most adversity, but finally the pieces are falling into place. The offensive line has had a healthy David Bakhtiari and Elgton Jenkins on the left side to go with the versatile Zach Tom. The rookie from Wake Forest played well after replacing Yosh Nijman (shoulder) at right tackle in the first half.
On defense it's been Clark, De'Vondre Campbell and Alexander leading the way, with strong performances from Preston Smith and the rest.
It has produced four straight wins with a chance for much more.
On Sunday, the fact that offense, defense and special teams were all feeding off each other makes Green Bay a dangerous opponent.
"This is probably the first game all season we've played complementary football in all three phases," Rodgers said. "The way our defense played, forcing turnovers. Offensively, not a huge game stat-wise but we did a good job holding onto the football and then running the ball effectively. And then Keisean, what can you say?"
LaFleur seconded that notion.
"Every phase definitely made an impact," he said.
Now it's Lions-Packers to see who makes the playoffs.
Buckle up.
It's going to be a wild ride in the regular-season finale.