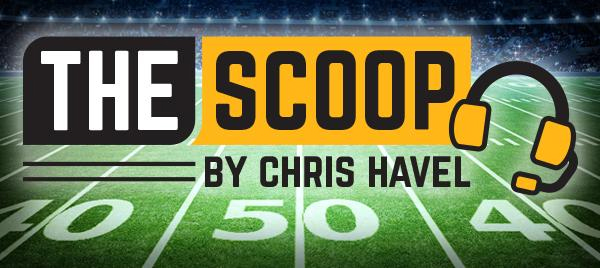 By Chris Havel
Special to EVENT USA
GREEN BAY, Wis. – Aaron Rodgers really might be a genius.
After all, he made me look smart following last Monday's column in which I noted the QB's self-indulgent, diva approach to this offseason.
On Tuesday, Rodgers confirmed on The Pat McAfee Show that he doesn't intend to play for a team that's in rebuild mode. He added that bringing back select veterans such as Marcedes Lewis and Randall Cobb would signal to him that Green Bay isn't in rebuild mode.
"If there's a rebuild going on, I won't be a part of that," he said.
"A guy like Marcedes Lewis, he's an important cog in the wheel of the locker room and the momentum of the team. That's a guy I want to finish my career with. If I'm playing, I want that guy next to me. I want the Randall Cobbs of the world – if he wants to keep playing – in my locker room. (I want) guys you can win it (with)."
Rodgers added that he would be open to a trade.
What planet is he living on?

Of course, Rodgers would love to swap huddles with Brock Purdy so he could lead the 49ers into the NFC Championship against Philadelphia. But would he be willing to swap paychecks with Purdy? Doubtful.
Rodgers' self-view doesn't line up with the reality that Father Time, disguised as every NFL pass rusher, is perpetually gaining on him.
When Rodgers signed his three-year, $150 million contract last spring, which included a cap-busting $50 million guaranteed, the purpose was presumably to have him commit to the team for three years. Now, Rodgers isn't sure he wants to play for the Packers in 2023.
Does that mean he is hinting at retirement? Not likely that will happen considering he'd be leaving about $60 million guaranteed on the table.
Is he suggesting that he wants to be traded? The Packers' salary cap is about $20 million in the hole. Trading Rodgers would increase it by another $8.7 million. But the good news is, if that is what he really wants, it would mean more draft picks this spring, although a high first-round pick seems unlikely. It also means passing the baton to Jordan Love, who just wants to play, rebuild be damned.
Here's the difference between Rodgers and Love: Rodgers wants to play "in the right situation", although there is no crystal clarity as to what that would be. Love wants to play in the NFL in order to "make that situation right" and then deal with whatever comes his way.
Rodgers told McAfee that it's possible the Packers would prefer to go with Love instead of him. He called it "just a feeling."
"If they want to go younger and think Jordan (Love) is ready to go, then that might be the way they want to go," he said. "I think to assume it's a foregone conclusion (his return) would be probably slightly egotistical, so I'm going to be a realist here and understand that there's a lot of different parts to this. Like I've said, I was aware of the possibility of them going young if we had gotten to the point where we were out of it," he continued. "I'm aware of that possibility as well. It wouldn't be the best reality but I know that it's a possibility."
It's likely the Packers also had a hunch Rodgers would vacillate at the end of the season. As mentioned in my last column, they do have some experience with that situation with Mr. Favre's years ago.
When the Packers drafted Love, a majority of fans viewed it as a disaster. The fact is it could be their salvation. Anybody notice how the younger quarterbacks in the NFL are doing these days? Case in point: Joe Burrow. Is Love another Burrow? That would be amazing. Not likely, but who knows? Maybe it's time to find out.
Rodgers helped the Packers reach back-to-back NFC Championship games with Love as his backup. But Green Bay lost both games to drop Rodgers' win-loss record in NFC Championships to 1-4. Here is Rodgers' combined stat line in those games: On average, he completed 25 of 39 passes (65%) for 276 yards, 1.8 TDs and 1.6 INTs with 12 sacks for an 83.7 passer rating.
That is scarcely average.
The teams' recent postseason record has been disappointing at best and many of the heartbreaking losses have occurred in the so-called friendly confines of Lambeau field, in the cold, and to warm-weather and/or dome teams. Something seems quite wrong with that. No, that's not all on Aaron Rodgers, but the record speaks for itself. His performance has not been outstanding in those games.
I don't subscribe to the theory that Aaron Rodgers put the team on his shoulder pads and carried it to the NFC Championship five times, but lost four times because the supporting cast wasn't strong enough.
There are those that say that the greatest quarterbacks elevate their teams' level of play against the best teams and in the most important games. Aaron Rodgers is a sure fire, first ballot, NFL Hall of Famer. His career statistics are otherworldly but, in terms of leading the Packers to championships, there's just that one magical season of 2010. And that was a long, long time ago.
If Aaron truly wants out of Green Bay, and that means some sort of a trade, I think he should be accommodated, and the Packers move on.