Your Weekly Packers News Update
We've sorted through dozens of articles about the Packers' latest news, game results, rosters, rumors and other info that's important to the team and to you. Check it out!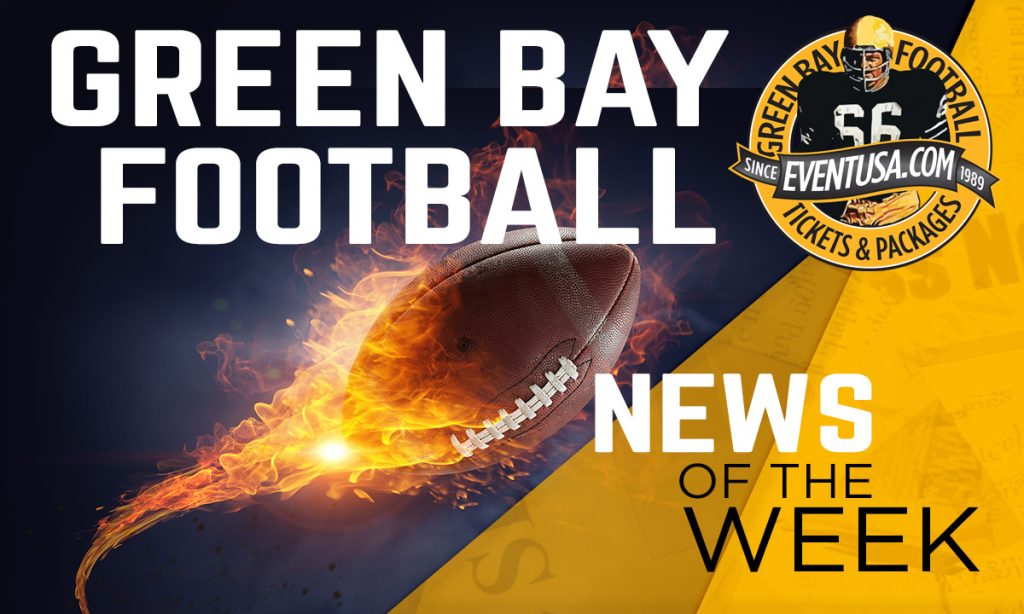 By PACKERSWIRE
Zach Kruse, Brandon Carwile, paulbretl and Brennen Rupp
What's the Green Bay Packers' biggest need entering 2023 NFL draft?
Ten picks in the 2023 draft will provide Green Bay Packers general manager Brian Gutekunst a real opportunity to address his roster's most immediate needs and continue building out the foundation of the depth chart as his team makes the transition from Aaron Rodgers to Jordan Love this season.
So, what's the biggest need for the Packers entering the 2023 NFL draft?
The staff at Packers Wire made their picks (and it's a consensus):
Zach Kruse: Tight end
Safety, defensive line and wide receiver were all strongly considered here, but the Packers actually have capable NFL players with legitimate starting experience at all three positions. The same can't be said about tight end. This might be the worst collection of tight ends in the NFL entering the draft. Can Josiah Deguara, who has made six career starts, become something more than an H-back in his fourth season? Is Tyler Davis ready to take over more blocking snaps and receiving responsibilities after struggling last summer? It's still possible the Packers could bring back Marcedes Lewis, but the tight end position needs to be rebuilt from the ground up. The good news: the Packers' gigantic need at tight end is about to meet a great draft class of tight ends.

Brandon Carwile: Tight end
There isn't a position on the roster more depleted of talent than tight end. Josiah Deguara is currently TE1 despite being more of an H-back, while Tyler Davis is still primarily a special teamer until he proves himself on offense. However, for as bad as the depth chart looks today, the Packers picked a good year to need a tight end. The 2023 draft class is loaded with possibilities, whether you are looking for capable blockers or receiving threats. Ideally, Green Bay should try to target one of the more well-rounded prospects early in the draft and add another developmental tight end (or two) on Day 3. There's no shame in augmenting the position with as much young talent as possible to increase your chances of hitting on someone.
Paul Bretl: Tight end
There are just four tight ends on the Packers roster currently. Josiah Deguara, an H-back, has 681 career snaps and 39 receptions, while Tyler Davis has 347 snaps and eight catches. Austin Allen and Nick Guggemos have been practice squad players. With a depth chart this thin and inexperienced, the Packers need a little bit of everything from a pass-catching presence, to a more traditional blocking tight end. It also wouldn't hurt to find those abilities rolled into one prospect who could add some needed unpredictability to the tight end position within this offense. The good news, however, is that this is one of the deeper and more talented tight end classes we have seen in sometime. Addressing this need somewhat early on and spending at least two draft picks on it over the seven round draft will be a must. Given the state of this position and the depth of this draft class, I wouldn't rule out Brian Gutekunst spending three picks on tight ends, something we've seen him do in previous drafts at other positions.
Brennen Rupp: Tight end
As it stands right now, Josiah Deguara and Tyler Davis sit atop the tight end depth chart. It's a duo that has combined for 48 career receptions. It's imperative that Brian Gutekunst gets his hands on one of the top six tight ends in this class. Adding one of Michael Mayer, Dalton Kincaid, Darnell Washington, Tucker Kraft, Sam LaPorta or Luke Musgrave would go a long way in improving the long-term outlook of that room. Add one or two of those two tight ends and add another on day three. Gutekunst needs to add weapons for Jordan Love and this tight end class will give the Packers general manager ample opportunity to upgrade the tight end room.
Other needs
Defensive line: Losing Jarran Reed and Dean Lowry robbed the Packers of depth and experience up front on defense.
Wide receiver: The top four players on the depth chart are 2022 draft picks, and three were Day 3 picks.
Safety: Adrian Amos remains unsigned, and Darnell Savage is coming off a season in which he was benched and later changed positions (slot).
Kicker: Parker White, the only kicker on the roster, has never kicked in a regular season game. Mason Crosby is unsigned.
---
Follow all of your favorite Wisconsin teams at Packers Wire, Badgers Wireand the Milwaukee Journal Sentinel!