Your Weekly Packers News Update
We've sorted through dozens of articles about the Packers' latest news, game results, rosters, rumors and other info that's important to the team and to you. Check it out!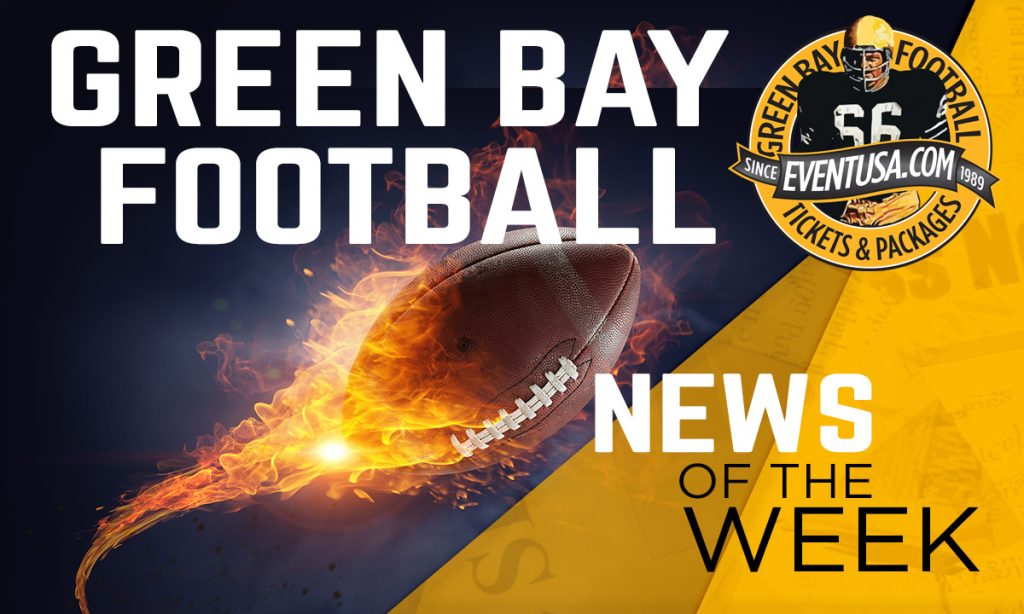 By PACKERSWIRE
Zach Kruse, Brandon Carwile, paulbretl and Brennen Rupp
Closer look at the Green Bay Packers' 2023 draft picks
The Green Bay Packers selected 13 players during the 2023 NFL draft, including first-round pick Lukas Van Ness, two tight ends, three wide receivers and two defensive linemen.
It's now time to dig into the draft class and find out what the Packers added to their roster during the year's biggest roster-building event.
In this post, we'll take a closer look at the entire draft class, providing breakdowns, player profiles, scouting reports from The Athletic's Dane Brugler and comments from the Packers on all 13 selections.
1.13: OLB Lukas Van Ness
Breakdown: Played in 27 games at Iowa, producing 19.5 tackles for loss and 13.5 sacks. Played mostly inside in 2021 and moved outside in 2022. The Packers think he can do both at the next level and expect him to contribute right away. Should get development time behind Rashan Gary and Preston Smith before becoming full-time player. Game is mostly power. One of the most athletic edge rushers in the class overall.
Brugler's scouting report: "Coming off the bench at Iowa, Van Ness was primarily an edge rusher in defensive coordinator Phil Parker's four-man front, but he also saw significant snaps inside over the B-gap. The Iowa coaches reward seniority, so John Waggoner and Joe Evans started at defensive end last season, but Van Ness had more defensive snaps than either and led the Hawkeyes in tackles for loss and sacks. Regardless of alignment, Van Ness has high-end tools with his length and play strength, which allow him to wear down blockers as a pass rusher or stack, locate and play off blocks in the run game. A hockey player most of his life, he credits his time on the ice for developing his balance, urgent play style and competitive toughness. Overall, Van Ness needs coached up with his pass-rush construction and overall pacing, but he is an ascending player and competes like a grizzly bear with his fierce power and explosive twitch. He has the upside of an impactful NFL starter with inside/outside versatility, regardless of scheme."
They said it: "Big man. Powerful. Fast. Explosive. Really big upside…The physical traits are all there for him to grow, so there's no real limitation on him. But also, the versatility to win outside with speed and inside with power. There's so much in front of him, and that's where his best football will be." — GM Brian Gutekunst
2.42: TE Luke Musgrave
Breakdown: Tall, fast and hyper-athletic tight end with enormous potential as a pass-catcher. Experienced blocking inline, stretching the seam and running routes detached from the line of scrimmage. Caught 11 passes over two games before injury ended breakout 2022 season. Had some early-career drop issues and wasn't elusive after the catch during final season. Size/athleticism profile almost identical to Travis Kelce. Think of him as the tight end version of Christian Watson; not many built like him, and he'll be special if it all comes together.
Brugler's scouting report: "A two-year starter at Oregon State, Musgrave was a Y tight end in offensive coordinator Brian Lindgren's run-heavy scheme, lining up both inline and in the slot. After two seasons as a backup behind two future NFL players Noah Togiai (Philadelphia Eagles) and Teagan Quitoriano (Houston Texans), he became a starter as a junior, but his targets were limited in the Beavers' run-first offense and he missed almost all his senior year because of injury. An impressive size/speed athlete, Musgrave runs like a gazelle (elite high school track numbers for his size), and his lacrosse and skiing backgrounds translate to football with his core strength and hip fluidity as both a pass catcher and blocker. He blocks with outstanding body control and leverage to be a physical edge setter and engage defenders at the second and third levels, although he still needs to improve his sustain skills and steadiness as a pass blocker (only 5.9 percent of his career snaps on offense came in pass protection). Overall, Musgrave must continue to build up his football resume and overall consistency, but he is a high-level athlete with the route running and blocking talent to be a productive starting combo tight end in the NFL. He should be the first-ever Oregon State tight end drafted in the top 100 picks."
They said it: "Big, fast physical tight end that can stretch the field. Good wiring, good kid, comes from a football family…a lot of upside there. He's got a legitimate trait where he can stretch the field and run by linebackers. If you put a safety on him, he'll have a chance to body those guys up. We think his skill set to win as a pass-catcher was significant, and we like him as an inline blocker as well. " — VP of player personnel Jon-Eric Sullivan

2.50: WR Jayden Reed
Breakdown: Thin but dynamic and ultra-competitive receiver who can line up at any spot out wide and also return punts and kicks. Consistently plays bigger than his size; goes and gets the ball in traffic and 50/50 opportunities. Elusive with the ball in his hands. Terrific 10-yard split, Packers say they clocked him at 4.37 in the 40-yard dash. Wins on back-shoulder throws. Excelled at the Senior Bowl. Should complement Christian Watson and Romeo Doubs well as a versatile receiver who can play in the slot. Caught over 200 career passes and returned three punts for scores.
Brugler's scouting report: "A three-year starter at Michigan State, Reed was a perimeter receiver in offensive coordinator Jay Johnson's offense. Although his senior year fell short of expectations because of injuries and the Spartans' offensive struggles, he accounted for 46 explosive plays (20-plus yards) over the past two seasons and became just the third player in school history with multiple punt return touchdowns in the same season. Reed has outstanding foot quickness and skillfully throttles his route speed to separate from coverage. Despite dropping too many easy ones, his focus is heightened on contested windows, and he shows a knack for timing his leaps and snatching the football off the helmets of defensive backs. Overall, Reed will have a tougher time overcoming his slight size vs. NFL defensive backs, but his speed, route tempo and downfield ball skills are the ingredients of a potential NFL playmaker. With a few technical tweaks to his game, he has NFL starting ability (slot and outside) and adds value as a return man."
They said it: "Jayden is a very versatile player. He can return punts, play inside in the slot, play outside the numbers. He's fast, quick in and out of his breaks. He's strong for his size. We like him with the ball in his hands. Another kid who is wired right. He's going to bring a dog mentality to this locker room." — VP of player personnel Jon-Eric Sullivan
3.78: TE Tucker Kraft
Breakdown: Dual-threat pass-catcher and blocker who did a little bit of everything at SDSU. Looks the part at 6-5 and over 250 pounds. Nearly as athletic as Musgrave. Caught 99 passes and was a two-time All-American. Tough, aggressive player whether he's blocking or running after the catch. Legitimate Y tight end potential at the next level.
Brugler's scouting report: "A three-year starter at South Dakota State, Kraft was a hybrid tight end (inline, wing and slot) in the Jackrabbits' balanced offense. After passing on lucrative NIL offers from programs like Alabama, he returned to Brookings in 2022 for what NFL scouts expected to be his breakout season, but an ankle injury in the first quarter of the opener vs. Iowa curtailed that plan (he still returned and helped the program win the 2022 FCS National Championship). As a pass catcher, Kraft is an outstanding catch-and-go creator with fluid adjustment skills and balanced feet. As a blocker, he might not be polished, but he gets after it with the body control and desire to sustain and finish blocks. Since 1976, South Dakota State has only produced two top-100 draft picks and both were tight ends (Dallas Goedert No. 49 overall in 2018 and Steve Heiden No. 69 in 1999) – Kraft should be the third. Overall, Kraft needs development time to refine his route running and blocking techniques, but he is big, strong and athletic with the ball skills and blocking tenacity to evolve into an NFL starter. His play style and talent are reminiscent of Foster Moreau."
They said it: "Tucker is very good with the ball in his hands after the catch…I think he has really good balance and strength to break tackles and keep himself alive. I think these guys can do everything you ask a tight end to do in the NFL." — GM Brian Gutekunst
4.116: DL Colby Wooden
Breakdown: Versatile defensive front player who played some on the edge and inside for Auburn but was disruptive everywhere he lined up. Tallied 30 tackles for loss and 15 sacks over three seasons. Packers want him to bulk up and play primarily inside. Physical, up-field player with good get off the ball and an impressive motor. Durability is a plus (played in every game over last three seasons). Could play Kingsley Keke-like role in Green Bay.
Brugler's scouting report: "A three-year starter at Auburn, Wooden was the starting defensive end in former defensive coordinator Jeff Schmedding's four-man front, although most of his snaps came inside the offensive tackle as 4i or 3-technique. His production improved each of the last three seasons and he is one of only nine Tigers to reach 30 career tackles for loss over the last 25 years. Wooden is very active off the ball with the lower-body agility and limb quickness to play in gaps. However, his block destruction is undeveloped and he must do a better job staying on schedule to make a living battling NFL blockers. Wooden isn't consistently disruptive when rushing from the outside, but he can set the edge or reduce down where his rush skills are more effective on the interior. He offers position flexibility as a rotational base end or 3-technique as an NFL rookie capable of ascending to starter."
They said it: "He's a defensive tackle, big end type player. Athletic. Inside pass-rush guy. Can set the edge. Play inside. Quick. Powerful. Good football player. Really adds a lot of versatility to our defensive line." — assistant director of college scouting Patrick Moore
5.149: QB Sean Clifford
Breakdown: Four-time captain and three-time All-Big Ten pick who set school records at Penn State for passing yards and passing touchdowns. Produced 101 total touchdowns (86 passing, 15 rushing) in 51 games and 48 starts. Packers love his combination of intelligence, moxie, athleticism and toughness. Top-30 visit sold the team on his football acumen. Turns 25 in July. Likely long-term backup option behind Jordan Love.
Brugler's scouting report: "Sean Clifford, who has a younger brother (Liam) on the Penn State roster, was a three-year starter at St. Xavier High School and led the Bombers to the Division I state championship in 2016. A four-star recruit, he committed to Penn State over several SEC offers and became the Nittany Lions' all-time leader in passing yards, passing touchdowns and completion percentage. Clifford was the first player in his high school's history to be a two-time captain and was only the second fourtime captain in Penn State history. He was effective in a college RPO-based system, and his willingness to hang tough in the pocket or utilize his mobility helped keep drives alive. However, he needs to get through his progressions quicker and make things easier on his receivers to finish catches. Overall, Clifford throws well on the move and NFL teams love his toughness and smarts, but his current decision-making and ball placement are too inconsistent for what is required at the next level."
They said it: "Sean is a guy who is really intelligent. He's played a lot of games. He's got some athleticism. He's a natural thrower. All the things we look for in quarterbacks, he possesses. We had him up here on a 30 visit and went through the meetings with himand were impressed by his football acument and overall intelligence." — Head coach Matt LaFleur
5.159: WR Dontayvion Wicks
Breakdown: Big-play threat with ideal size (6-1, 206) who dominated in 2021 but took a big step back in 2022. Averaged 21.1 yards per catch created 27 plays of 20 or more yards and set a school record for receiving yards (1,203) as a junior but struggled during a scheme change as a senior. Although not a straight-line speedster, he's an explosive mover with excellent body control and the ability to go up and get the ball in traffic. Wins with releases. Drops can be an issue. Lacks experience in the slot. Likely X receiver.
Brugler's scouting report: "A two-year starter at Virginia, Wicks was the X receiver in head coach Tony Elliott's pro-style spread offense. He put his name on the early-round NFL Draft radar as a junior with a school-record 1,203 receiving yards, including 27 plays of 20-plus yards. But his senior year was the opposite in terms of production as he struggled to match his junior year success while learning the new offense under Elliott. Wicks' basketball background shows on the football field with his athletic movements, body length and ability to elevate and out-rebound the football. However, the concentration drops are a glaring issue, and he must buckle down on the finer points of the position to maximize his talent. Overall, Wicks' evaluation is complicated because of the night-and-day difference between his 2021 and 2022 performances, but the raw talent is there for him to continue ascending as he polishes his game. His development potential will understandably capture the interest from NFL teams in the top four rounds."
They said it: "Ton of production in 2021. A lot of upside. Athletic complement that goes along with his skill set that we really liked…When you watch the 21 tape, there's a significant difference. That's what we're hanging our hat on." — Director of football ops Milt Hendrickson
6.179: DL Karl Brooks
Breakdown: Dominant MAC edge rusher at 296 pounds who will move inside and play on the interior for Green Bay. Proven disruptor; led Bowling Green in sacks all five seasons. Made 48 starts and tallied 46 tackles for loss, 27.5 sacks and six forced fumbles. Strong, powerful, contact-seeker who did 28 reps on the bench. Versatile but has tweener traits and needs to find a home along the defensive line. Two-time team captain.
Brugler's scouting report: "A five-year starter at Bowling Green, Brooks was primarily a defensive end in former defensive coordinator Eric Lewis' 3-4 base, lining up outside as a 7-technique, head up over the tackle or inside as a 3-technique. Very few college players can say they led their team in sacks five straight seasons, but Brooks is one of them, including a prolific senior campaign as one of only six FBS players to finished with 18-plus tackles for loss and 10-plus sacks. With his initial quickness and effort, Brooks should be Bowling Green's first defensive draft pick since 2013. His hands are active, but not always efficient and his sawed-off frame makes it difficult for him to control blockers or stay square. Brooks has a unique package of tools, which creates questions about his ideal position fit, but he has the light feet and urgent hands to be a gap disruptor. He projects best as a 3-technique who can be flexed up/down the line."
They said it: "What he was able to display, even against the MAC, you turn on the tape and he was a man amongst boys. When you see players from non-Power 5 or FCS schools, you want to see them dominate, and you can put on the tape and see that kid dominate for stretches." — director of football ops Milt Hendrickson
6.207: K Anders Carlson
Breakdown: Brother of All-Pro kicker Daniel Carlson, who kicked for Rich Bisaccia in Las Vegas. Five years of kicking experience at Auburn. Consistent inside 35 yards but had issues in deeper range, especially over 50. Had injuries in 2021 (ACL) and 2022 (shoulder). Packers think he's ascending and will improve drastically once injuries are in the rear-view mirror. Handled kickoffs at Auburn. Stands 6-5. Bisaccia's belief in the player fascilitated pick. Can he beat out Parker White?
Brugler's scouting report: Scouting reports not supplied for specialists.
They said it: "He was a kicker that Rich has an extensive experience with…Struggled with some injuries over the last few years after a very promising start, but we felt really good about where he's headed and I think the relationship there with Rich was a positive factor in picking him there." — GM Brian Gutekunst
7.232: CB Carrington Valentine
Breakdown: Ascending, aggressive corner with length who is still learning how to play the positon. Led Kentucky in pass breakups in 2022. Tons of special teams snaps over three seasons. Explosive jumper (39″ vertical, 10-8 broad). Likely perimeter cornerback who needs development pathway before seeing the field.
Brugler's scouting report: "A two-year starter at Kentucky, Valentine was the boundary cornerback in defensive coordinator Brad White's zone-heavy scheme. Still relatively new to the position after moving to corner as a junior in high school, his 2022 tape was a tad volatile, with plenty of flashes mixed in with some mistake-filled games. Valentine has an enticing blend of physical tools and physicality that fits the mold of what NFL teams want at the position. But he will lose route phase/positioning because of his lack of refinement (allowed eight completions of 25-plus yards in 2022), and his one career interception is a troubling stat. Overall, Valentine is long, aggressive and athletic and has yet to reach his ceiling as a cover man, but his ball instincts and technique are underdeveloped, making his draft grade much more of a projection than others. He projects best as a long-limbed press corner."
7.235: RB Lew Nichols III
Breakdown: Big, thick running back with power, quick feet and ability to catch the ball out of the backfield. Rushed for over 3,000 yards and caught 71 passes at CMU. Led the FBS in rushing and all-purpose yards in 2021. Excellent contact balance.
Brugler's scouting report: "A two-year starter at Central Michigan, Nichols was the bell-cow back in offensive coordinator Paul Petrino's multiple run scheme. He earned MAC Offensive Player of the Year honors in 2021 with an FBS-best 2,186 all-purpose yards and 1,848 rushing yards, but his rushing yards per game dropped from 142.2 to only 68.4 in 2022 as he battled injury. With his blend of quickness and power, Nichols can be a tackle breaker and won't need gaping holes to reach the second level. But he can be methodical at times as he follows his blocks and needs to better anticipate openings before they present themselves. Overall, Nichols is a productive, determined runner with solid feel between the tackles, but his next-level potential will be capped by a lack of creativity with the ball in his hands and inconsistent passing-down skills. His workhorse approach could get him on the field in the right situation."
7.242: S Anthony Johnson Jr.
Breakdown: Highly experienced, versatile defensive back who started four seasons at corner before switching to safety in 2022 and excelling on the backend. Can cover, tackle in space and fill against the run but still learning to do all three from the safety spot. Good range. One of the most experienced special teamers in the class. Made 54 total starts. Team captain, four-time All-Big 12. Played snaps out wide, in the slot, in the box and as a deep split safety. Produced first two picks as a safey in 2022.
Brugler's scouting report: "A five-year starter at Iowa State, Johnson played free safety in defensive coordinator Jon Heacock's 3-3-5 base scheme, lining up mostly as a nickel in the slot. After four years at cornerback, he transitioned to a hybrid safety-nickel role as a super senior and passed former Texas quarterback Colt McCoy in the record books for the most career starts (54) in Big 12 history. Johnson plays with mirroring range in man coverage and against the run and reads concepts well in zone coverage to fluidly work his area. The ball seems to find him more than he finds the ball, and he is still learning the ins and outs as a true safety. Overall, Johnson might not have a sky-high ceiling at the next level, but his character, experience and functional size/speed traits raise his floor and will keep him earning an NFL paycheck. His game and journey are reminiscent of Rams' 2019 seventh-rounder Nick Scott."
They said it: "Go back to the versatility we're talking about. The one thing that sold us on him was, he was the top of football character as you can possibly get, the way they talk about him there. That was one of those fun calls to make because the wiring was exactly what we were looking for." — GM Brian Gutekunst
7.256: WR Grant DuBose
Breakdown: Well-built, smooth-moving receiver who caught 126 passes and 16 touchdowns over two seasons at Charlotte. Checks all the boxes for the Packers in terms of size, athleticism and collegiate production. Inspiring story to the NFL (DII, lost COVID season, try-out player at Charlotte). Senior Bowl participant. Long arms who makes plays away from his frame. Can return punts and cover punts on special teams. Likely X receiver in the NFL.
Brugler's scouting report: "A two-year starter at Charlotte, DuBose was a perimeter receiver in former offensive coordinator Mark Carney's balanced scheme. After his career was in limbo during the pandemic, he found a home in Charlotte and led the 49ers in receiving both of his seasons with the program (only the fourth player in school history to surpass 1,500 career receiving yards). DuBose owns a good-sized frame and plays even bigger with his natural ball skills and mid-air adjustments, regardless of the coverage. But even with hesitation routes or double moves, he will struggle to create early or vertical spacing against NFL-level cornerbacks. Overall, DuBose plays with the body fluidity and catch point talent that increase his chances of finding a permanent home in the NFL, although he has work to do to be considered more than just a jump-ball weapon or zone beater. He has rotational value as an NFL rookie."
They said it: "I like Davante Adams, our 40 times our pretty similar. I've taken things from his game. I like the big guys, like A.J. Brown and DK (Metcalf)." – Grant Dubose
Follow all of your favorite Wisconsin teams at Packers Wire, Badgers Wireand the Milwaukee Journal Sentinel!