Your Weekly Packers News Update
We've sorted through dozens of articles about the Packers' latest news, game results, rosters, rumors and other info that's important to the team and to you. Check it out!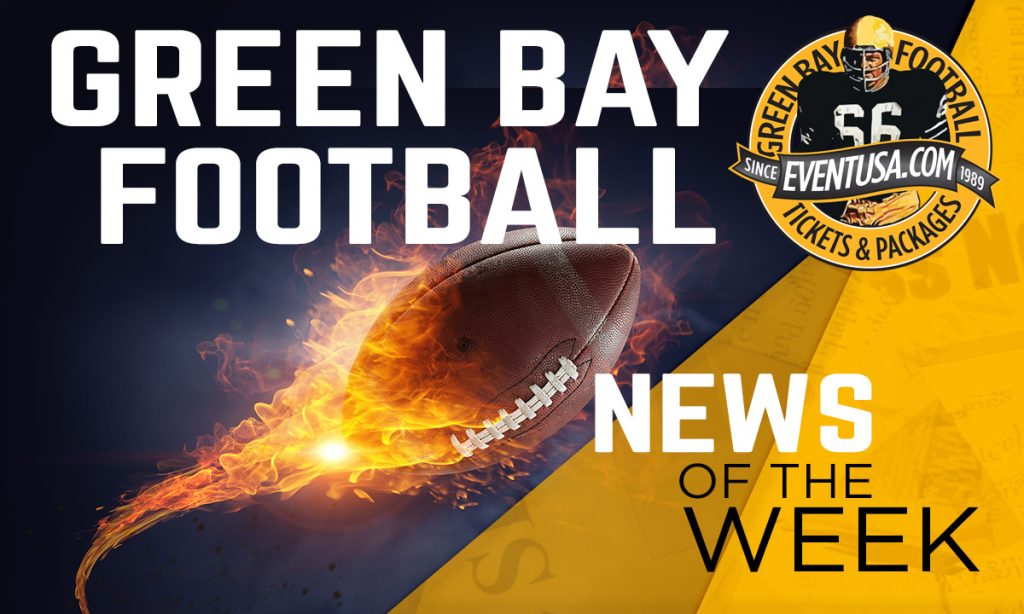 By PACKERSWIRE
paulbretl
Packers will let young WRs compete before turning to free agency
Given the amount of inexperience within the Green Bay Packers wide receiver room, making a veteran addition to provide some stability would make sense. However, for the time being at least, the Packers are going to hold off.
Including the recent draft picks and undrafted signees, the Packers have 10 receivers on the 90-man roster currently. Seven of them were drafted within the last two years. Only three have any NFL snaps. And Romeo Doubs is the most experienced of the bunch, with 529 career snaps.
Experience isn't the be-all-end-all, but there is oftentimes value in having it. Experience could provide the Packers with stability in the midst of potential week-to-week volatility with such a young position group, another valuable aspect as Jordan Love goes through his first season as a starter. It's also another voice to help guide the young players in practice, in the film room, and from the sidelines on Sundays, diagnosing what is taking place on the field in real-time.

However, just as the Packers are doing at the quarterback position, they want to give their young wide receivers reps and see what they can do before deciding whether or not to make a veteran addition.
"Time will tell," said Matt LaFleur after Saturday's practice. "It is certainly a very talented room, and it's going to be a hell of a competition in terms of who is getting the snaps. At first glimpse at some of these young guys that were just in here, they are some talented guys and are going to be exciting to work with. We will see how it goes. It will be a very fluid situation just in terms of how much we throw at them. If need be, I know Gutey is going to do whatever he can to help field the best possible team, and if need be, we will turn that way (signing a veteran receiver), but right now, we are just going to let those guys compete."
Not that any free agent signing at this point would break the bank, but the Packers, who have $9.46 million in available cap space, according to Spotrac, don't have much spending power either. So they might as well see how their young pass-catchers perform before deciding to spend cap space they don't have.
Also, it's not as if there are many free-agent options left at this stage of the offseason. A few of the top remaining players still available at wide receiver include Julio Jones, Jarvis Landry, Breshad Perriman, N'Keal Harry, and Kenny Golladay.
What these young receivers need right now are reps. And what the Packers want to avoid is what happened last season with Sammy Watkins, who was taking reps away from Watson and Doubs, but his playing time wasn't translating into production.
Thinking big picture, more opportunities for this young receiver room will hopefully shrink the learning curve that every first and second NFL player experiences, thus leading to a greater impact sooner. Not to downplay the 2023 season, of course, the Packers still want to win, but they aren't considered Super Bowl contenders either. As they transition to Love, they have the opportunity to transition at other positions as well and can be better positioned to then compete in 2024.
Love and his receivers, as well as the tight ends, have a unique opportunity to grow together. Just about everyone will be starting the 2023 season from a similar point in terms of NFL playing time. Without question, there will be growing pains, but the payoff could be huge as well, especially at two positions where there is so much playmaking potential on this roster.
As the most experienced players on the roster, both in terms of NFL snaps and tenure in the Matt LaFleur offense, Watson, Doubs, and Toure are now going to be thrust into leadership roles. Although still young themselves, because of the time that they spent last season with Randall Cobb and Allen Lazard, who set the standards and expectations for the room, LaFleur feels that this trio of receivers is ready for much larger roles both on and off the field.
"They do that naturally," said LaFleur. "It's fun to watch the jump that a lot of these guys make from Year 1 to Year 2 in terms of just how they mature as men. They are going to be two of the guys that we lean on in that room; Samori is another one that knows the standards and expectations of that position room. I've said it prior, in terms of what the guys that have been here before set those standards and those expectations, all three of those guys are really smart dudes, and they understand what it takes. They are going to have to take on a larger leadership role, regardless of whether they want to or not."
Follow all of your favorite Wisconsin teams at Packers Wire, Badgers Wireand the Milwaukee Journal Sentinel!