Your Weekly Packers News Update
We've sorted through dozens of articles about the Packers' latest news, game results, rosters, rumors and other info that's important to the team and to you. Check it out!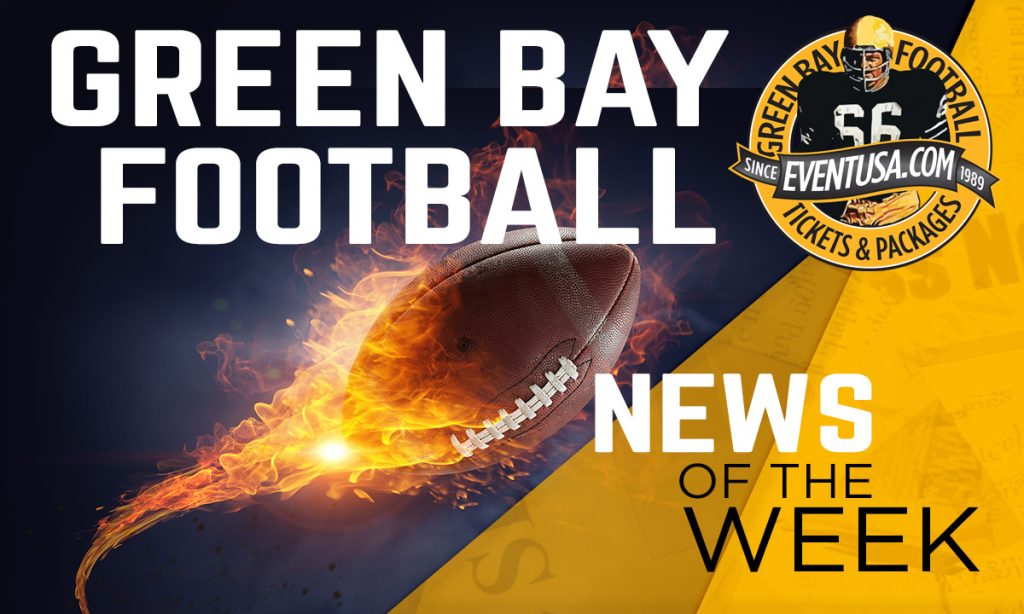 By PACKERSTALK
By Greg Meinholz
Where does Aaron Jones fit Amongst Packers All-Time Running Backs?
It's no question that the Green Bay Packers have had three of the best Quarterbacks in the history of the league wear their jersey. But behind the Quarterbacks, they've also had some great Running Backs as well. After all, their most infamous play design is a run that brought them success for many years. Unfortunately, due to the athleticism of defenders today likely spoiling that play, we may never see one of the best Packers Running Backs of the last 20 years run it. But boy would it be neat to see Aaron Jones taking off in the Lombardi Sweep.
When Aaron Jones was drafted in the 5th round of the 2017 NFL Draft, there was no pomp and circumstance. He was number 182 overall and initially was looked at as just another running back. The Packers actually had just drafted a running back, Jamaal Williams in the fourth round. So, to some casual fans it seemed like a pointless pick. But after a 2016 season of not having an established Back due to injuries at the position and most of those Backs not returning the following year, the Packers needed to reload.
Jones flashed in some areas in 2017, but had his true breakout in 2018 where he had 934 all-purpose yards and 9 touchdowns. He then followed that up with an even bigger breakout with 1558 all-purpose yards and 19 touchdowns.
Jones was well on his way to a great career in Green Bay amongst the greatest to wear the uniform. But how does he stack in comparison with them?

The Gold Standard of Jim Taylor
For 43 years a record stood with the Packers Franchise for All-time total rushing yards. This was held by Jim Taylor, a fullback for Lombardi's Packers who amassed 8,207 total rushing yards in his 8-year Packers career. Taylor was often a benefactor to the aforementioned Lombardi sweep as plowed over defenders to win four World Championships. His record stood for a reason as he was one of the best to ever do it and it landed him in the Pro Football Hall of Fame.
The Record Breaker Ahman Green
From 2000 to 2009 the Packers had a running back that quietly made his way to the top of the Packers all-time rushers list. In my opinion, Ahman Green is one of the most under-appreciated Packers of all time. Perhaps he was over-shadowed by Brett Favre and a lack of post-season wins in his time. Nonetheless, Green was always a threat to take one to the house and did a number of times including a 98-yard rushing touchdown. He put himself in the NFL all-time record books for single season rushing yards in 2003 with 1,883 yards as well in route to his Packers all-time rushing record of 8,322 yards.
Other Greats to Mention
If I do a paragraph on each one this article will be way too long. But I can't go without mentioning the Golden Boy himself, Paul Hornung who rushed alongside Jim Taylor in the 60s and still put himself in the top 10 rushing yards total with 3,711 in his Hall of Fame career. John Brockington was one of the few bright spots on the Packers in the 70s amassing 5K yards. The Gray Ghost of Gonzaga, Tony Canadeo dominated the 1940s for the Packers, while Dorsey Levens and Ryan Grant also make the list with successful careers in the 90s and 00s. Clark Hinkle and Gerry Ellis round out the Packers top 10 all time rushers with their careers in the 1930s and 1980s.
But where does that put Aaron Jones?
Easily Top 10, Maybe Top 5
If you look stat-wise at Aaron Jones, he's currently holding the third most rushing yards in Packer's history. We can't just put him at 3 though because stats don't completely make the player. He has Pro Football Hall of Fame caliber competition behind him on that list.
If there's one thing that sets Jones apart from the rest of the pack, it's his receiving abilities. Aaron Jones is a monster out of the backfield. He isn't just a screen-pass catcher, he can also catch a ball thrown 20-30 yards downfield. That makes him a great dual threat running back.
If I were to choose, I'd put Aaron Jones at number 5 for the Packers all-time best running backs behind Taylor, Hornung, Canadeo, and Ahman Green. Clark Hinkle certainly threatens him for that number 5 spot, but I had to give it to Jones.
Aaron Jones not only has gotten it done on the field, but he's endeared himself to the Packers faithful as well just being an all-around standup individual. No matter how much longer he puts on the Green and Gold, be sure to enjoy every moment of it as we're witnessing greatness.
Greg Meinholz is a 24/7/365 Packers fan. When he's not spending time with his family, he can be found meditating in his Packers shrine with a good beer. You can follow him on twitter at @gmeinholz.