Your Weekly Packers News Update
We've sorted through dozens of articles about the Packers' latest news, game results, rosters, rumors and other info that's important to the team and to you. Check it out!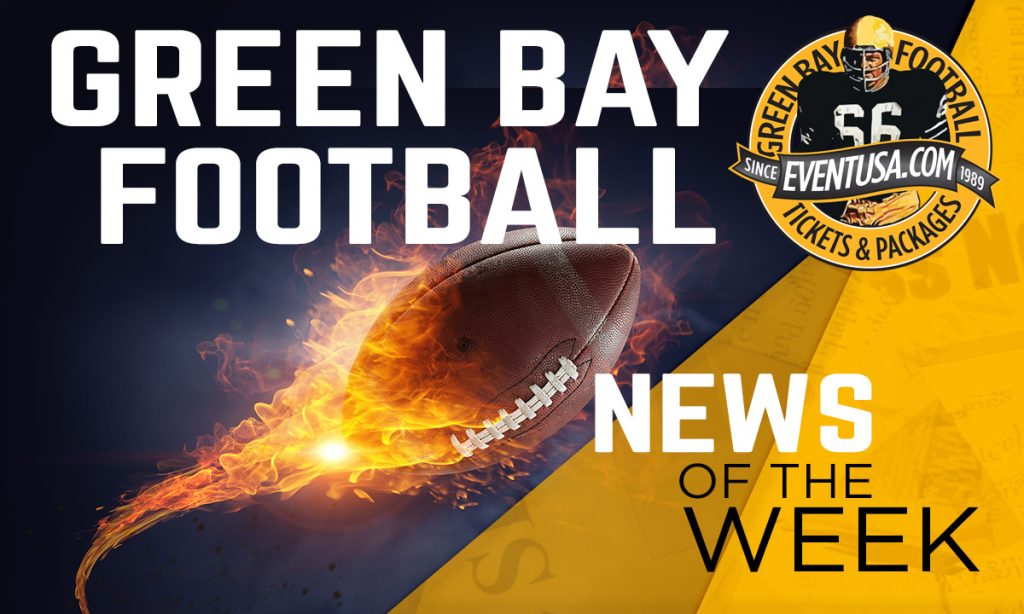 By PACKERSWIRE
What can we learn about 2023 Packers from the 2008 Packers?
Attempting to connect two football teams separated by 15 years is probably a fool's errand, but the 2023 Green Bay Packers have a special connection to the 2008 Packers, and it's worth diving into to see if the first team quarterbacked by Aaron Rodgers can teach us anything about the team about to be run by first-year starter Jordan Love this season.
Here are some things to consider about the 2023 Packers after diving into the 2008 team:
Close games will matter, a lot
The 2008 Packers lost 10 total games by a combined 63 points, including seven losses by seven points or fewer. During an eight-game stretch spanning November and December, the Packers lost six games by four points or fewer and dropped from 4-3 to 5-10. The close games are going to matter a lot in terms of staying afloat in the playoff race. Overall, the 2008 Packers were 1-7 in one-score games. Learning how to win with Jordan Love is going to be an up-and-down journey, but it's hard to imagine the 2023 Packers having worse luck (and luck is very much a factor in these scenarios) in winning close games.

Fourth quarter defense
The 2008 Packers lost five fourth-quarter leads. This ties into the close game section. Had the Packers held onto advantages in the fourth quarter of the five games, their record would have flipped from 6-10 to 11-5. The 2008 defense struggled under Bob Sanders, allowing the 22nd most points and 20th most yards after allowing the sixth most points and 11th most yards in 2007. The 2023 Packers need a big turnaround on defense under Joe Barry. Given the amount of draft capital and cap dollars spent on the defense, improvement is absolutely necessary. Like the 2008 team, this year's team won't be able to survive giving away winnable games in the fourth quarter.
Can the passing game hit the ground running?
It's tough to compare the Packers' 2008 passing game to the 2023 passing game. In 2008, Rodgers was throwing to Donald Driver, Greg Jennings, Jordy Nelson, James Jones and Donald Lee. By the end of 2008, Jennings and Driver both had over 1,000 receiving yards. Can Christian Watson, Romeo Doubs and a ridiculously young group of receivers and tight ends provide enough of a supporting cast for Love? There is a strong foundation, given the talent at running back, the experience along the offensive line (and the elite players on the left side) and the speed at the skill positions. Inexperience will be a much bigger issue for the 2023 Packers.
Situational
The 2008 Packers offense finished fifth in third-down percentage and sixth in red-zone touchdown percentage. Both are incredible marks for a team quarterbacked by a first-year starter. Rodgers was terrific on third down (passer rating of 105.7), and the Packers averaged over 5.0 yards per carry on third down. Rodgers also threw 19 touchdowns without an interception in the red zone. New offenses and inexperienced quarterbacks can really feel the pressure of situational football, especially in high-leverage situations like third down and when the field condenses in the red zone. Like Mike McCarthy before him, Matt LaFleur's ability to dial up the right stuff in big spots will determine if the 2023 Packers can be a strong team situationally.
Special teams and defense can score
The 2008 Packers got nine total touchdowns from the defense (including five from Nick Collins and Charles Woodson) and special teams: seven turnovers returned for scores, and two punt return scores from Will Blackmon. Overall, the 2008 team won six total games and four featured a return touchdown. Can the 2023 Packers get similar impact? This year's defense doesn't have all-world playmaking talents like Collins or Woodson, but players such as Preston Smith, Rasul Douglas, De'Vondre Campbell and Darnell Savage produced defensive touchdowns in the last three seasons. And the special teams has a special weapon in Keisean Nixon, last year's All-Pro kick returner, and rookie receiver Jayden Reed scored touchdowns returning punts at Michigan State. A young offense may need help scoring punts, so big plays from the defense and special teams are a likely requirement.
Follow all of your favorite Wisconsin teams at Packers Wire, Badgers Wire and the Milwaukee Journal Sentinel!