Your Weekly Packers News Update
We've sorted through dozens of articles about the Packers' latest news, game results, rosters, rumors and other info that's important to the team and to you. Check it out!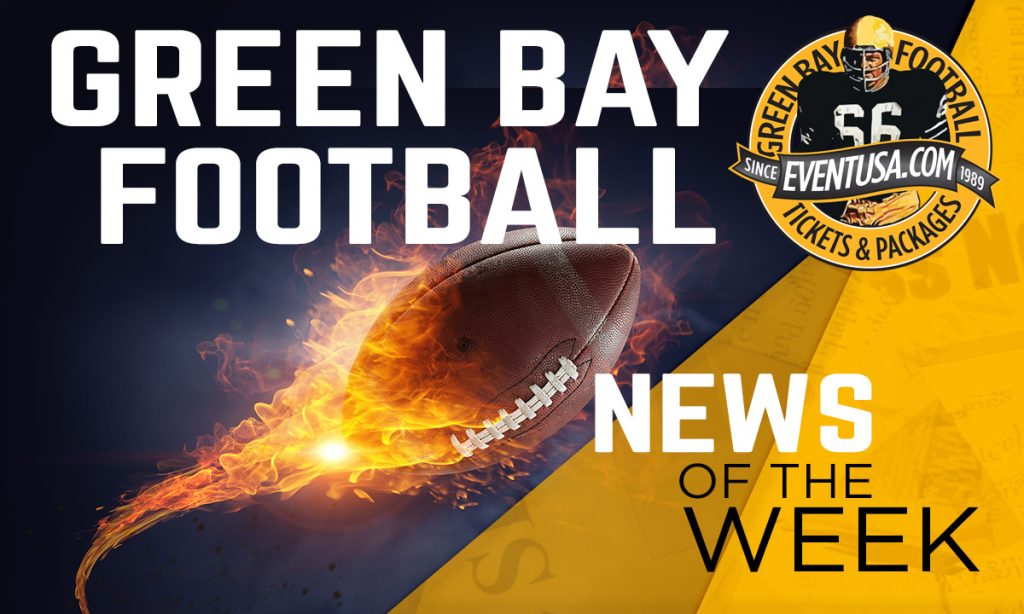 By PACKERSWIRE
Zach Kruse, paulbretl, Brennen Rupp and Brandon Carwile
Should the Packers sign a veteran backup quarterback?
The Green Bay Packers might have one of the least experienced quarterback groups entering training camp in NFL history: Starter Jordan Love has exactly one regular-season start, and backups Danny Etling and Sean Clifford (2023 fifth-round pick) have never appeared in an NFL game.
Earlier this month, former NFL general manager Rick Spielman suggested the Packers should sign Teddy Bridgewater, who has extensive experience both as a starter and backup. In a shallow pool of available quarterbacks, Bridgewater is likely the best option.
This question has hovered all offseason: Should the Packers sign a veteran to be the backup behind Love?
The staff at Packers Wire provided their own answers:
Zach Kruse
I think, when picturing an ideal situation, every team would want a quarterback room featuring an undisputed starter, a quality backup who can play in a pinch, and a developmental option. The Packers check two of the three boxes with Jordan Love as the starter and fifth-round pick Sean Clifford as the young quarterback to develop long-term. Do the Packers think Etling can come in and play quality regular-season snaps if something happened to Love? I can't imagine they do, and going into the season with Clifford as the top backup would be playing with fire. Matt LaFleur doesn't like splitting reps between four quarterbacks, so eventually swapping out Etling for a quarterback with legitimate NFL experience is probably the right move. I'd guess the Packers start camp with Love, Etling and Clifford but end it with Love, Clifford and a veteran. Then again, Aaron Rodgers had rookies Matt Flynn and Brian Brohm as his backups in 2008 and everything turned out fine. If Clifford shows capability during camp and the preseason, maybe he can emerge as Matt Flynn 2.0.
Paul Bretl
I think signing a veteran backup quarterback makes a lot of sense for the Packers. Having that experience on the sidelines, in the film room, and on the practice field as an extra set of eyes to share what they see and the why behind it with Jordan Love could be quite valuable in his first season as a starter. A few of the remaining free agent options include Teddy Bridgewater, Joe Flacco, and Nick Foles. However, there is always give and take with these decisions. Any addition would have to be willing to sign for a very modest contract. According to Ken Ingalls, who independently tracks the Packers salary cap situation, Green Bay's effective cap space — or what they have to spend — is just $1.2 million. I'll also guess that signing a veteran backup would mean the Packers are going to keep three quarterbacks on the 53-man in order to roster Sean Clifford, which means one less roster spot at another position. Green Bay spent a fifth-round pick on Clifford, have spoken highly of him since the draft, and want to develop him as well, so I'm assuming they wouldn't be willing to put him on the practice squad, where another team could sign him. While it would be a prudent signing to make, for the reasons mentioned, I think the Packers stay put with their current quarterback room.
Brennen Rupp
It couldn't hurt, right? As it stands right now Green Bay's quarterback room collectively has one career start to their name. The Packers could use a veteran in that room and Teddy Bridgewater is still out there looking for work. Bridgewater has started 65 games in his career and could spot start and keep the Packers "afloat" if something were to happen to Jordan Love. Teddy Ballgame is just two years removed from throwing 18 touchdowns and throwing for 3,000-plus yards in 14 starts for the Denver Broncos. The Broncos went 7-7 during his 14 starts. There is value in having a quarterback that's been there and done that sitting on the sideline. Sign Bridgewater and hope that he never sees the field.
Brandon Carwile
It's a difficult question to answer without seeing either Danny Etling or Sean Clifford in action. Both did fine during the offseason program, but everything is going to ramp up once training camp starts. Etling went through the process last year and was good enough to earn a spot on the practice squad. While he does have a year in the system under his belt, he is a 28-year-old journeyman without much of a ceiling. Meanwhile, Clifford is a fifth-round pick who doesn't have a great arm and had accuracy concerns coming out of Penn State. Brian Gutekunst does tend so favor his draft picks so you would think it's Clifford's job to lose. Initially, it was believed that a veteran could help Jordan Love in his first season as a mentor while offering more stability as the No. 2. But to this point, the Packers haven't seen it that way and may boil down to what Etling and Clifford do in the preseason. If they don't make the necessary strides, bringing in a veteran will make sense.
Follow all of your favorite Wisconsin teams at Packers Wire, Badgers Wireand the Milwaukee Journal Sentinel!