Your Weekly Packers News Update
We've sorted through dozens of articles about the Packers' latest news, game results, rosters, rumors and other info that's important to the team and to you. Check it out!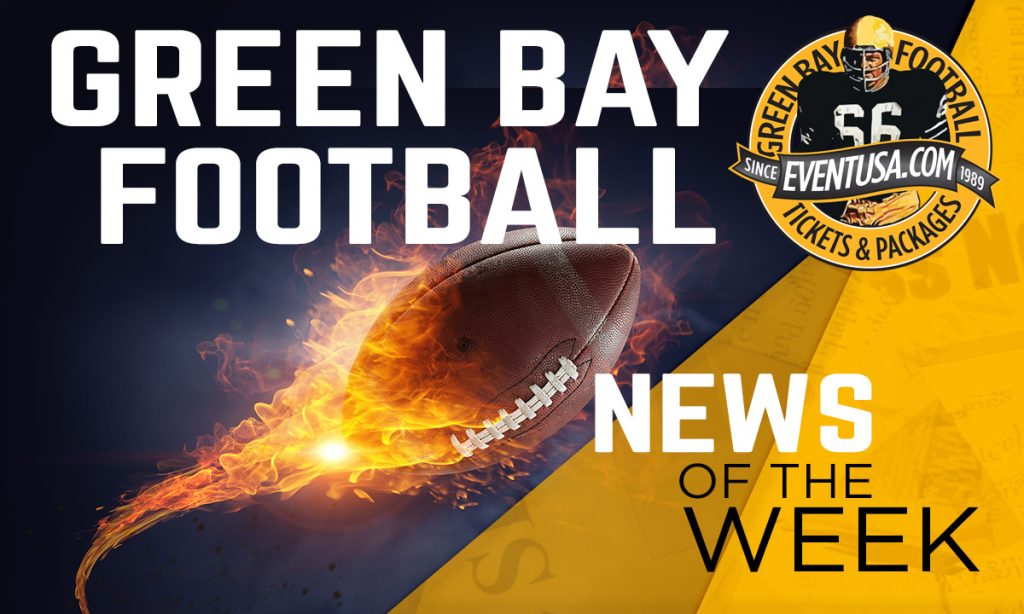 By CHEESEHEADTV
By GilMartin
Five Candidates to be the Packers Breakout Player of the Year
The Green Bay Packers enter the 2023 season with a lot of unknowns. For the first time in 15 years, they have a new starting quarterback. The team is also much younger than it has been in recent years with veterans like Aaron Rodgers, Marcedes Lewis, Adrian Amos, Allen Lazard, and Dean Lowry no longer with the team.
But who will be the team's breakout player? Who will be the player who was on the team last year but is now taking on a bigger role and makes a big leap in the quality of his play once given the opportunity?
This year's rookie class is not eligible for this list. While there are other players who have a good chance to make a jump, these are my top five.
5. OL Zach Tom
Tom is in a battle with Yosh Nijman for the starting right tackle position. The second-year man out of Wake Forest proved his versatility last season, filling in at four positions along the offensive line.
Tom started five games as a rookie when injuries struck along the offensive line. Right away in training camp, he made a good first impression and picked up the offense faster than Sean Rhyan who was drafted a round ahead of him.
Now Tom has a chance to establish himself as a starter and a quality one at that. His first step is winning a starting job somewhere along the offensive line.

4. DL Devonte Wyatt
The Packers selected Wyatt with their second pick in the first round in 2022. The former Georgia star was only a minor part of the defensive line rotation in his first NFL season.
In the final three games, Wyatt saw more playing time after Dean Lowry was injured and lost for the season. He showed flashes of talent and made some plays by penetrating the offensive line and disrupting ball carriers.
While playing only 23 percent of the Packers defensive snaps, Wyatt recorded 1.5 sacks and showed his potential once he got more comfortable in the defense.
Now with Lowry and Jarran Reed departed as free agents, Wyatt is expected to be a starter along the line. He has a big opportunity to show he can live up to his draft position and become a solid contributor on defense.
3. ILB Quay Walker
Walker started 16 games and played all 17 as a rookie but the Georgia alum had his struggles, especially early in the season.
While Walker led the Packers with 121 total tackles, he had issues taking the proper angles on running plays and just reading plays in general. By the end of the season, Walker had improved in those areas.
He has elite speed for an off-ball linebacker and he and De'Vondre Campbell could be the most dynamic starters the Packers have had in a long time if Walker starts to realize his potential.
Walker will also have to control his temper which got him ejected from two games last season.
The talent is there. If Walker makes a second-year jump, he could be the team's breakout player in 2023
2. WR Christian Watson
Watson got off to a slow start last season due in part to nagging injuries. He dropped a sure touchdown on the Packers first offensive play from scrimmage in Week 1 and struggled to get on the field early in the season.
But the former North Dakota State star had a breakout game against Dallas in Week 10 and never looked back. He finished the season with 41 catches for 611 yards and seven receiving touchdowns.
Watson has a rare combination of size and speed that give him the potential to become a strong WR1 in this league. He needs to improve his consistency and his hands to take his game to the next level and prove he can be the primary weapon in the passing game.
Watson showed his potential as a rookie, now he needs to show he can consistently get the job done.
1. QB Jordan Love
Love is finally getting a chance to start after sitting behind Aaron Rodgers for the first three years of his career. With Rodgers now with the Jets, the Packers have put their faith and their future in the hands of their 2020 first-round pick.
The coaching staff and many teammates said they saw Love make a lot of progress last season. He showed some of that ability in his limited game action last season especially in a late-game fill-in for an injured Rodgers in Philadelphia.
Love will have to play with an inexperienced group of receivers and tight ends but that also gives the unit a chance to mature and grow together.
All eyes will be on Love who now has a two-year window to show he can be the next quality quarterback in Green Bay after signing an extension over the offseason.
There will likely be growing pains but by the end of the season, can Love prove he is a quality NFL starter? We'll find out starting in Week 1 in Chicago.
You can follow Gil Martin on Twitter @GilPackers