Your Weekly Packers News Update
We've sorted through dozens of articles about the Packers' latest news, game results, rosters, rumors and other info that's important to the team and to you. Check it out!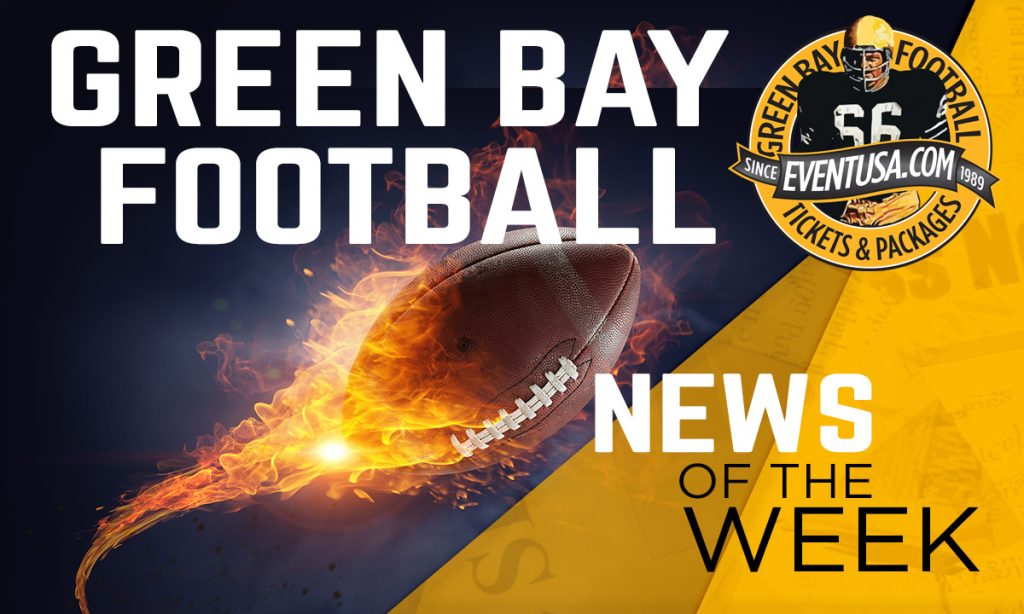 By PACKERSWIRE
By: paulbretl
Key observations and takeaways from Packers Family Night practice
The Green Bay Packers' annual Family Night practice took place in front of 65,000-plus fans inside Lambeau Field on Saturday night. In a game-like environment, there were a number of competitive periods.
Here are my observations and takeaways from what I saw from the Lambeau Field press box. Throughout the article you'll find tweets of mind with the outcome from one-on-one reps between the pass catchers and defensive backs:
— Injury updates: Rashan Gary and Eric Stokes, who are on the PUP list, did not participate, neither did Grant DuBose who is on the NFI list. David Bakhtiari was still out after dropping out of Tuesday's practice. Elgton Jenkins did not participate either (note: out with an illness). Lew Nichols was out after taking a big hit on Thursday, as was Josiah Deguara, who left Tuesday's practice with a calf injury.
— Keisean Nixon, Samori and Jayden Reed were returning punts during that period, while Nixon and Reed were the two primary kick returners. It will be interesting to see if Nixon continues to handle both return responsibilities while also playing defense, or if Reed takes over one of them.
— Without Bakhtiari or Jenkins on the left side, the Packers starting offensive line was Yosh Nijman at left tackle, followed by Royce Newman, Josh Myers, Jon Runyan, and Zach Tom. Because the Packers were without Bakhtiari and Jenkins, we saw little movement along the offensive line, which meant that Tom only played right tackle.

— It's worth mentioning, the starting kick return unit included Patrick Taylor. Both Brian Gutekunst and Matt LaFleur mentioned this week that special teams would play an important factor in determining the third running back. With that said, Goodson continues to have the larger role within the offense and continues to take snaps ahead of Taylor, but again, that doesn't sound like it'll be the deciding factor.
— Also on that kick return unit was Tyler Davis, Tucker Kraft, Luke Musgrave, Corey Ballentine, Jonathan Owens, Tariq Carpenter, Innis Gaines, Eric Wilson, and Isaiah McDuffie.
— Along with Taylor, also with the starting kick return unit was Innis Gaines. As I've discussed before, I'm not sure what his path to the 53 looks like with crowded safety and cornerbacks rooms, but he made some impact plays on special teams in 2022 and has spent time with the second team defense this summer in the slot.
— With Wicks likely being the fifth receiving option for much of the season along with how active running backs and tight ends are in the passing game, I don't expect him to have a big role as a rookie. But with that said, he is such a smooth route runner. He didn't post an elite 40 time prior to the draft, but he knows how to create separation with his release and refined route running abilities. He can become someone who can win in all parts of the field.
— I would say this was Tucker Kraft's best practice as a pass catcher. Saw his YAC ability on display, something he was known for coming out of South Dakota State. He also made a nice contested catch in the red zone.
— Luke Musgrave is going to be such a weapon for this offense and right away will play a big role. During the starting offense's first possession, Musgrave was targeted twice almost immediately and both with big play potential. One was on an intermediate crosser and another down the seam. This is going to be an element the Packers just didn't have at this position. Along with playing inline and from the slot, we will see him on the boundary somewhat regularly as well.
— For the second practice in a row, Jonathan Owens saw his snaps come with the starting defense. Matt LaFleur said that we would see the safeties continually rotated, but Owens has put together a really nice camp. Last season with Houston he was one of the best tackling safeties in football.
— After an up and down week, tonight was a great response from Anders Carlson, who finished the night 8-for-9 on field goals, ranging from 35 yards to 53. His one miss came from 50, but was a product of a high snap, which led to a shaky hold.
— On each of Carlson's field goal attempts, Daniel Whelan and Pat O'Donnell alternated as holder. Whelan has a big leg, but there is some risk that can come with relying on a rookie kicker and a rookie holder, especially when points may be at a premium. With that said, given that Whelan is getting the same holding opportunities as O'Donnell, this competition does seem to be heating up. If the Packers release O'Donnell they save about $1.5 million in cap space.
— Throughout training camp, I've been really impressed with the play of the linebackers, both on the first and second units. De'Vondre Campbell and Quay Walker, in particular, have done very well against the run, filling gaps and not letting the ball carriers get upfield when trying to go outside.
— Speaking of Walker, when the offense was at its own five yard line, I saw him lined up at the line of scrimmage as a pass rusher with Preston Smith and Lukas Van Ness at edge and Kenny Clark in the middle. I really like this wrinkle. We saw Walker used as a pass rusher occasionally last season, but as I wrote here, I do think there is room for that role to expand. However, as LB coach Kirk Olivadotti said, step one is continuing to handle his inside linebacker responsibilities first.
— Tyler Davis has done really well as a blocker. He is going to see his fair share of snaps this season at this rate. After practice, LaFleur said that Davis will be relied on more this season and also complimented him for his special teams abilities.
— There were a couple of missed throws early on by Love but overall thought it was an efficient performance. Even when he was off, there were no drive killing mistakes. Matt LaFleur said he settled in well.
— I thought this was Malik Heath's best practice during training camp. Looked really good as a route runner. Him and Bo Melton are fighting for the potential sixth wide receiver role.
— Karl Brooks capped off a nice week with another strong performance on Family Night, specifically as a pass rusher. Colby Wooden had some impressive snaps as well.
— The offensive line, specifically the perimeter blockers, did a nice job creating running lanes for the ball carriers. The interior defensive line continued to get a steady push, which is a promising development from a season ago. Along with that DeVonte Wyatt continues to flash.
Follow all of your favorite Wisconsin teams at Packers Wire, Badgers Wire and the Milwaukee Journal Sentinel!