Your Weekly Packers News Update
We've sorted through dozens of articles about the Packers' latest news, game results, rosters, rumors and other info that's important to the team and to you. Check it out!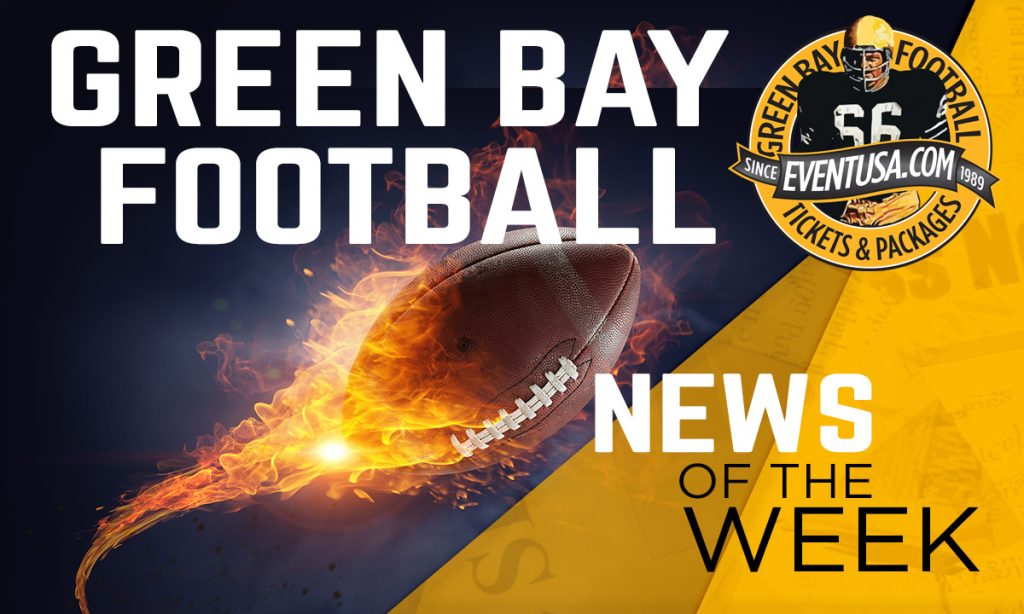 By PACKERWIRE
5 standouts from Packers' 25-24 loss to the Falcons
The Green Bay Packers fell to 1-1 on Sunday after blowing a 12-point fourth-quarter lead to the Atlanta Falcons. Green Bay came into the game missing three starters on offense and lost another in Pro Bowl guard Elgton Jenkins during the second quarter. After the game, Ian Rapoport of NFL Network reported that Jenkins suffered an MCL sprain and will have an MRI to determine the severity.
Even though they were shorthanded, the Packers' offense had its moments en route to building a double-digit cushion. However, they failed to get a single first down in the final quarter, putting the fate of the game into the hands of the defense. That turned out to be the difference, as the Falcons took advantage of a porous Green Bay run defense to get back into the game. On the final drive, Atlanta ran the clock down to under a minute remaining before kicking the go-ahead field goal.
"They shredded us. Consistently," Matt LaFleur said of the Falcons using 211 rushing yards to escape with a 25-24 victory.
Despite a monumental collapse, the Packers still had a chance to win in the end. Unfortunately, Jordan Love couldn't get anything going on the final drive and threw four straight incompletions to well-covered receivers.
Looking back, both the offense and the defense had chances to put this game out of reach, but neither side could get it done.
Next week, Green Bay will take on the New Orleans Saints, but before we look ahead, let's highlight the standouts from Week 2.

QB Jordan Love
To follow up on last week's performance, Love was once again efficient in operating the offense. LaFleur did a great job of scheming guys open for his quarterback, but it was Love who found them and delivered accurate passes. 155 passing yards doesn't warrant much excitement, but it's hard to generate explosive plays when your top two playmakers are hurt. Love still managed to toss another three touchdowns, bringing his total to six on the season without an interception. Falcons corner AJ Terrell did drop an easy one in the fourth quarter, but Love remains turnover-free through the first two games. His poise and calm demeanor have been refreshing thus far, and even though he couldn't lead his first fourth-quarter comeback against Atlanta, there is a lot to look forward to when the offense is at full strength.
WR Jayden Reed
The Packers don't usually rely on rookie receivers, but injuries and inexperience at their skill positions have left them no choice. Reed has caught on fast as a second-round pick and is not shying away from his prominent role. Last week, he caught two passes for 48 yards. This week, he led the team with eight targets and four receptions, with two of those catches resulting in touchdowns. Reed's speed and playmaking ability have been effective in Green Bay's offense.
WR Dontayvion Wicks
Reed wasn't the only rookie receiver to step up today, as Wicks also turned in a strong performance. On the very first play of the game, he got behind the defense on a flea flicker and drew a 44-yard pass interference penalty. Unfortunately, the offense stalled once it crossed midfield and ended up punting. Wicks would later catch an 8-yard pass during the second quarter, but his most impactful play occurred after halftime. During the third quarter, Wicks caught a pass over the middle and made two defenders miss before making his way into the endzone for a 32-yard score. It was the first career touchdown for the fifth-round pick out of Virginia, who has received nothing but praise from the coaching staff since he arrived. Perhaps this performance will result in more opportunities.
DT Kenny Clark
Clark was the driving force behind the defense surrendering only nine points in the first half. He consistently generated pressure against Desmond Ridder and was in the quarterback's face when he threw an interception on Atlanta's opening drive. Though it wasn't enough to secure the win, he finished with six tackles, two QB hits, and 0.5 sacks. Per usual, Clark has been great at creating havoc up front but needs help from his supporting cast.
LB Quay Walker
The Packers' first overall pick in 2022 is off to a great start in his second season. Walker had a pick-six in the opener and should have had another interception this week but dropped it. Still, it was a solid outing for Walker, who flew around the field to record a career-high 17 tackles. The Falcons gashed Green Bay's defense for most of the day, but it wasn't without a valiant effort from Walker. His speed and athleticism were on full display and he is now showing why the Packers were so high on him. Hopefully, Walker will continue to develop in the heart of the defense.
Follow all of your favorite Wisconsin teams at Packers Wire, Badgers Wireand the Milwaukee Journal Sentinel!