Your Weekly Packers News Update
We've sorted through dozens of articles about the Packers' latest news, game results, rosters, rumors and other info that's important to the team and to you. Check it out!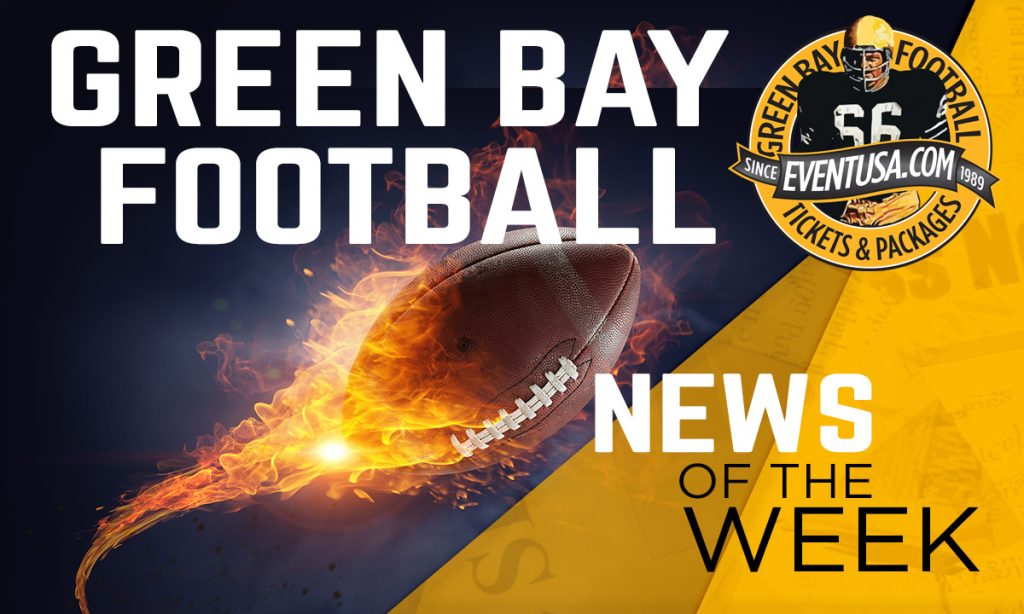 By PACKERSWIRE
Recap of Packers' 24-10 loss to Vikings in Week 8
The Green Bay Packers fell behind 10-0 in the first half and 24-3 in the second half on the way to a 24-10 loss to the Minnesota Vikings on Sunday at Lambeau Field. Matt LaFleur's team has lost four straight games and are now 2-5 after five games, while the Vikings won a third-straight game and got back to .500 at 4-4. The biggest news might be the injury status of Vikings quarterback Kirk Cousins, who left in the fourth quarter with an apparent ankle or Achilles injury.
Here's a recap of the Packers' 24-10 loss to the Vikings in Week 8:
Scoring plays
First quarter
MIN 7, GB 0: Cam Akers 6-yard rush (1:34)
Second quarter
MIN 10, GB 0: Greg Joseph 25-yard FG (10:13)
MIN 10, GB 3: Anders Carlson 30-yard FG (0:00)
Third quarter
MIN 17, GB 3: TJ Hockenson 2-yard catch (9:25)
MIN 24, GB 3: Jordan Addison 20-yard catch (7:48)
MIN 24, GB 10: Romeo Doubs 1-yard catch (2:39)
It was over when…
Jordan Love's deep pass on 4th-and-20 fell incomplete with 1:17 left, giving the Vikings the ball back late in the fourth quarter with a 14-point lead and a chance to kneel down twice to secure the win. The Packers had the ball with 1st-and-10 at the Vikings' 15-yard line twice in the fourth quarter but scored zero points.

WR Jayden Reed: The rookie caught four passes for a career-high 83 yards, including two catches of over 30 yards. He did have a chance for a big catch on Jordan Love's lone interception.
OLB Preston Smith: The veteran tallied two sacks, including a strip-sack resulting in a takeaway, and a game-high four quarterback hits. He also broke up a pass in coverage in the end zone.
DL Karl Brooks: The rookie blocked a field goal on special teams, preventing three points and keeping the Packers in the game in the second half.
Key stat
11. The Vikings converted 11 third downs (10) or fourth downs (1) on Sunday, including eight requiring eight yards or more. As a result, Minnesota ran seven more plays and held the ball for 36 minutes.
Jordan Love watch
Love completed 24 of 41 passes for 229 yards, one touchdown and one interception. He took four sacks losing 33 yards but ran four times for 34 yards. Drops were a consistent issue and several contested catches weren't made down the field. Love's lone interception was an unlucky play on a target to Jayden Reed. Given three opportunities late to score and get the game within one score, Love threw incomplete twice and was stopped short o the sticks on a third.
Only one injury was reported: Offensive tackle Yosh Nijman left with a foot injury in the second half. He was questionable to return but never did. Nijman has been playing through a knee injury.
The Packers, now 2-5, will welcome the Los Angeles Rams — who are 3-5 after losing 43-20 to the Dallas Cowboys on Sunday — in Week 9 of the 2023 season. Rams quarterback Matthew Stafford left this week's loss in the second half with a thumb injury. Sean McVay's team has lost three of the last four games.