Your Weekly Packers News Update
We've sorted through dozens of articles about the Packers' latest news, game results, rosters, rumors and other info that's important to the team and to you. Check it out!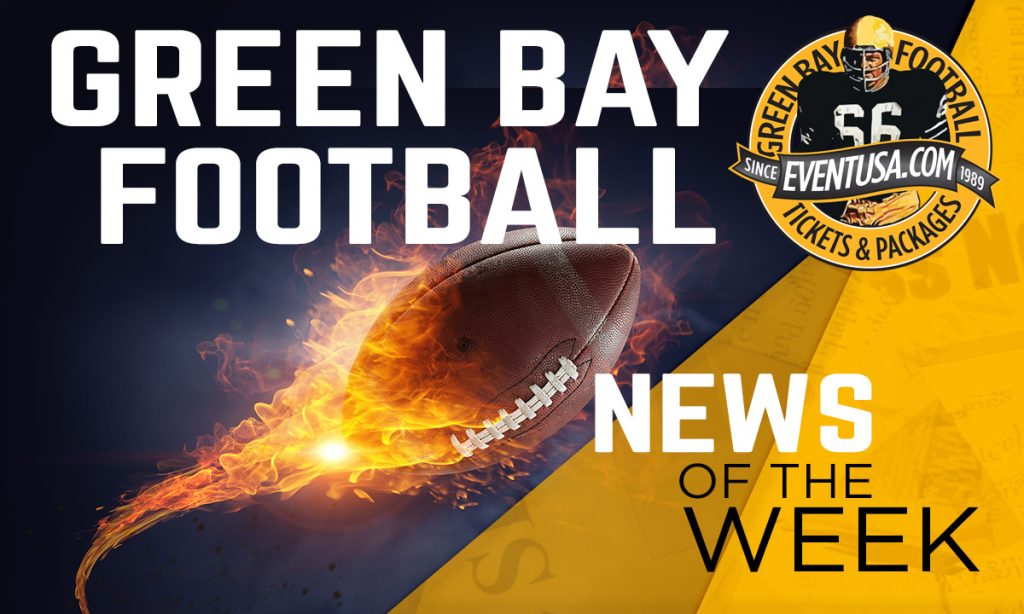 By PACKERSWIRE
Packers spread the Love in the passing game to beat Chargers
A collective effort from Jordan Love and the entire group of Packers pass catchers helped spark a late game-winning drive and ultimately lift Green Bay over the Los Angeles Chargers on Sunday.
It was two weeks ago prior to the Los Angeles Rams game, with the Packers in the midst of a four-game losing streak that included dropped passes and wrong routes by their young group of pass catchers, that wide receivers coach Jason Vrable said that the previous two weeks of practice had been their best and that the results were going to come.
At the time, and given the results, it could have been interpreted as coach speak. However, Sunday showed the culmination of what had been building in practice over the last month. All five active receivers had at least one reception against the Chargers. Including tight ends Tucker Kraft and Luke Musgrave, seven different players – 10 if we count the running backs – made an impact in the passing game.
Romeo Doubs led the way with five receptions. Both he and Christian Watson also found the end zone. Dontayvion Wicks and Jayden Reed continued to generate explosive plays, along with Tucker Kraft, who flashed that YAC ability we saw at South Dakota State. Luke Musgrave continued to be a steady target for Jordan Love and Malik Heath made his first NFL catch, while also throwing a key chip block on Khalil Mack on the game-winning drive.
"I think the group as a whole, first off," said Matt LaFleur post game. "I've got to give a lot of credit to (Jason) Vrable, he does a really good job with those guys of holding them to a high standard. Those guys compete with one another now. They do a great job. Guys like Malik (Heath) stepping in there. He had the huge chip on that third down on (Khalil) Mack. Putting him on his butt on the play that got called for the pass interference that allowed us to continue that drive.

"All those guys, they all battle, they all compete. I know the balls are tough to come by in terms of when you have five-plus guys that you feel like it can go to anybody and they show up with a great attribute. They cheer for one another and that's always great to see as well."
The Chargers defense plays a split-safety look quite often. This can make pushing the ball downfield vertically difficult for opposing offenses with the two safeties over the top. However, Love and the passing game were still able to generate five explosive pass plays of 20 yards or more – an area where this unit has been picking up steam in recent weeks – including four of them coming on Green Bay's two go-ahead scoring drives in the second half.
Most of the big plays in the passing game for Green Bay were sparked by yards after the catch opportunities, with that charge being led by Reed and Wicks, both of whom seem to have a sixth sense for finding the holes in an opposing defense.
"They're playmakers," said Love about Wicks and Reed. "They stepped up big today. They are two explosive guys. When you get the ball in their hands they are able to make guys miss and make those plays. Get some explosive pass plays and J-Reed was in the run game a lot. They're just playmakers."
Not surprisingly, with a variety of reliable pass-catching options to lean on, Love put together his best statistical performance as a starting quarterback. He finished the game completing 27-of-40 passes at 8.1 yards per attempt for 322 yards and two touchdowns.
Love was efficient and patient. As already mentioned, with not a lot of downfield opportunities open, Love was happy to take what was available to him as he went through his progressions. He kept the ball out of harms way by not forcing anything, and delivered several well-executed and challenging throws, including a few with pressure in his face.
"It was huge," said LaFleur of Love's performance. "He showed great poise. I think he showed that all game long.
"Feels good to be on the other side of these types of ball games," added LaFleur. "Just really proud of our group, just in terms of, they are growing. They're continuing to battle. We are getting better and we had a lot of guys step up and that was critical today. The young wideouts all made plays today and that was critical. I'm just really happy with our guys and the effort they put forward."
On the four previous occasions when the Packers lost a fourth-quarter lead, those games all ended in defeat. Facing a very similar situation agianst Los Angeles, which included them trailing in the final five minutes and with the ball, unlike past games, Love and his pass-catchers were able to deliver that elusive game-winning drive. In fitting fashion for this game, it included three different receivers touching the ball on a drive that lasted just six plays, and two explosive plays.
What this Packers offense has been missing for much of the season is that go-to option in the passing game. In those must have it situations, who does Love have to lean on? We still may not know who that player truly is – although Reed and Wicks have emerged as candidates – but also powerful is the unpredictability that this passing game potentially possesses, with the ball able to go in a handful of directions on just about any given play.
"It's hard for a team to have just one player that is doing extremely well and only rely on that one person," said Christian Watson. "So the more that everyone else can make plays the more plays we can make plays in the run game, the more it sets up everybody else in the other phases."
Follow all of your favorite Wisconsin teams at Packers Wire, Badgers Wire and the Milwaukee Journal Sentinel!