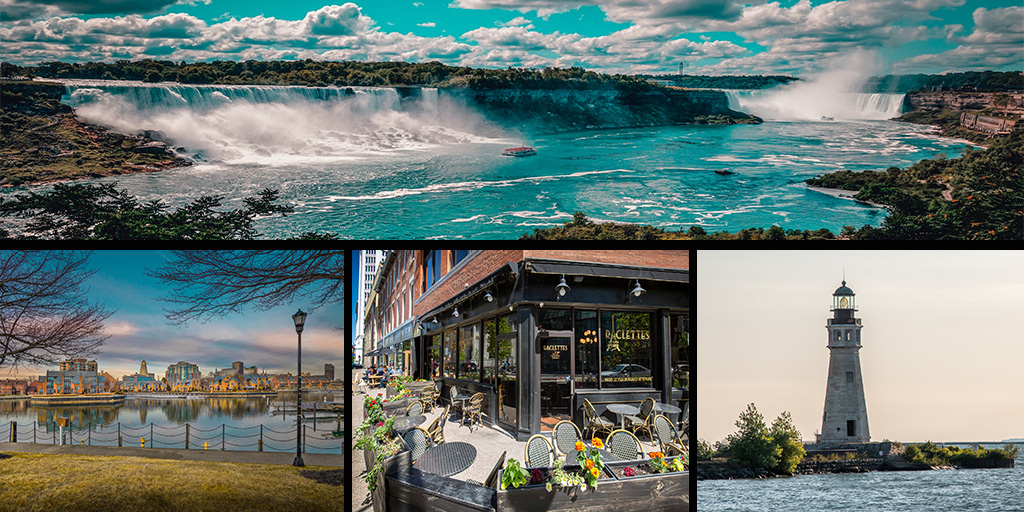 Sunday, October 30th – 7:20 PM CT* *NFL Flexible Scheduling
Highmark Stadium – Buffalo, New York
Buffalo, known as The City of Good Neighbors is waiting to welcome you! With their reinvigorated waterfront, architectural treasures, epic food scene and the awe-inspiring Niagara Falls, there's never been more to see and do! Join Event USA on the road to cheer on the Pack to victory! With two elite quarterbacks going head to head who is going to come out the winner? Aaron Rodgers or Josh Allen? Are you ready for some football?!
Land Package
Our Land Game Package features tickets, accommodations, tailgate, and more to help you support the team on the road!
The Land Game Package includes:
Upper Level End Zone Electronic Game Ticket (Exact Location Ticket upgrade available)
1-or 2- Night Deluxe Hotel Accommodations
Event USA Tailgate Party
Event USA Souvenir
Game Day Transfer
Complimentary WIFI
Staffed Hospitality Desk
Professional Tour Host
Hotel
TBD
Optional Sightseeing Excursion – Saturday, October 29th 9:00am – 4:30pm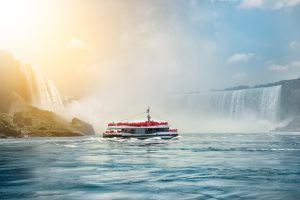 Explore the natural beauty of Niagara Falls USA! Upon arrival to Niagara Falls State Park, your tour guide will escort you through the winding paths of the park, where you will arrive at the New York State Observation Deck! From the Observation Deck, you will board onto elevators and descend into the Niagara Gorge to board onto the World Famous Maid of the Mist Boat Ride! This 30 minute journey ventures into the belly of the Horseshoe Falls for an up close view like you've never imagined. Feel the spray of the mist as it makes it's way over the Falls and hear the roar of her majesty as 600,000 gallons of water rush over the cliffs every second! Hang on tight as you feel the churning water below you make its away down river. After your cruise, ride the elevators back up to the Observation Deck for a spectacular view from above! Then, it's off to Goat Island and Terrappin point to view Niagara Falls right from the Brink! You'll also participate in the Cave of the Winds, which is a series of walkways along the lower Niagara River that allow you to experience Niagara Falls right from the base! You won't believe how close you will get to the rushing waters. The group will stop for lunch at the well known Hard Rock Café before continuing on with the tour along the lower Niagara River. As you make your way down river, you will arrive at Whirlpool State Park, where the Niagara Gorge makes close to a 90 degree bend, generates some of the World's strongest rapids and a mighty whirlpool. Hear the story of how the whirlpool and gorge came to be and how it plays an important role in the history of Niagara Falls. Finally, after your tour concludes, you'll be dropped off back at your hotel for the evening. Join us for a $199 per person. To purchase click here.
Need air?
At this time we are only offering packages without air included. If you are looking for air and need help please contact us directly for options and pricing.
Just tickets, tailgate or a game day package?
Our Road Warrior Package is a great day-of-game option. You can also purchase just tickets or tailgate only.
Road Warrior Package
Road Game Ticket ONLY
Road Tailgate ONLY
PRICING
Buffalo One Night Land Package Package
| | Double | Triple | Quad | Single | Child | |
| --- | --- | --- | --- | --- | --- | --- |
| 10/30 - Buffalo Bills One Night Land Package | $689 | $649 | $629 | $829 | $429 | Buy |
Buffalo Two Night Land Package Package
| | Double | Triple | Quad | Single | Child | |
| --- | --- | --- | --- | --- | --- | --- |
| 10/30 - Buffalo Bills Two Night Land Package | $819 | $759 | $719 | $1079 | $429 | Buy |
Additional nights only available on the 2 night land packages at $395 per room, per night.