Green Bay's 55-7 rout of Tennessee is payoff for slow, steady progress
Green Bay Packers News – Last week, Packers head coach Mike McCarthy assessed Green Bay's win at Chicago by saying, "We're just getting started … we feel there's a lot better football in front of us."
Coach was right.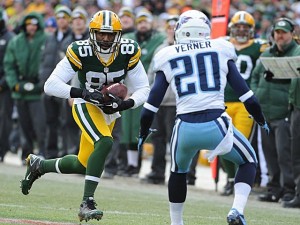 On Sunday, the Packers (11-4) celebrated their 2012 regular-season home finale with a lopsided 55-7 victory against an overwhelmed Tennessee Titans team. It was Green Bay's most complete and perhaps convincing win of the season, the other a 42-24 victory Houston.
"Everything happens for a reason," McCarthy said. "We have 11 wins because of what we've put into it and we're going to take whatever opportunity (that's) in front of us. We're going to play to win next week."
The Packers are at Minnesota (9-6) Sunday in a 3:25 p.m. nationally televised game with a great deal at stake. If the Packers win they are assured of the NFC's No. 2 seed, a first-round bye and a home game in the NFC playoff's divisional round. A Packers' victory also eliminates the home team Vikings from playoff contention.
Surely, the Packers can expect to get Minnesota's best, which is going to be a lot more than they got from Tennessee. That's not the Packers' problem, because there was a lot to like about the resounding win.
All three phases contributed mightily. The Packers' stars played like it. The defense brought great energy, effort and intensity. The offense passed when it wanted to, ran when it needed to and controlled the pace.
A.J. Hawk tied a single-game career high with two of Green Bay's seven sacks. Fifteen players have registered at least one full sack this season, which is at once a testament to Green Bay's depth and development. Every NFL team has a depth chart. The Packers' is truly functional.
The Titans' Jake Locker completed 13 of 30 passes – including just three in the first half – and managed 140 yards and two interceptions. Tennessee drove into Packers' territory only three times all game.
"It was important for us to go out and dominate the opponents late in the year," McCarthy said. "We have momentum going for us, particularly what we've done over the last nine, 10 weeks, so we wanted to take that next step as a football team."
The closest thing to disappointment was the Titans' late touchdown, denying Green Bay's defense its shutout. Oh, well, I'm guessing defensive coordinator Dom Capers is too busy cooking up a little something-something for Minnesota to fret over it.
Everything else the Packers wanted, they got, and not all of that because the Titans (5-10) aren't very good. A great share of the Packers' strong showing was due to their own focus.
Aaron Rodgers threw for three touchdowns behind a reshaped offensive line that featured, left to right, Marshall Newhouse, T.J. Lang, Evan Diedrich-Smith, Josh Sitton and Don Barclay.
Diedrich-Smith played solidly in his first start at center since McCarthy announced last week he was benching Jeff Saturday in favor of EDS.
The Packers scored on nine of their first 12 drives and finished a dazzling six of seven in the red zone. Ryan Grant scored two touchdowns, DuJuan Harris ran effectively and even Rodgers chipped in with a nifty touchdown run.
"They're a playoff team for a reason," Titans safety Jordan Babineaux said.
The reason is a more balanced attack, both offense-to-defense and within the offense (run-pass). Without question these Packers are more balanced than their 15-1 counterpart of a year ago.
That balance came with a lot of patience, hard work and stubbornness. McCarthy stayed with the running game and didn't allow injuries or short-term ineffectiveness to be an excuse.
By not asking more of Rodgers in September and October, McCarthy has built an offense capable of doing more to assist him in January.
The defense, according to Clay Matthews, also is right on course.
"This team is more mentally tough than last year," he said. "We understand what we need to accomplish and we can't just skate into the playoffs, which we did last year. We're taking this victory, but even more so, we're getting closer."
Indeed, McCarthy saw this coming after last week's game.
The Titans never knew what hit 'em.
Last week's prediction: Packers 31, Titans 17 (Packers, 55-7)
Season: 11-4
This week's prediction: Packers 31, Vikings 20
Chris Havel is a national best-selling author and his latest book is Lombardi: An Illustrated Life. Havel can be heard Monday through Friday from 4-6 p.m. CDT on WDUZ FM 107.5 The Fan, or on AM-1400, as well as Fan Internet Radio (www.thefan1075.com). Havel also hosts Event USA' MVP Parties the evening before home games.