Two driving forces allow the Green Bay Packers to stand out among NFL franchises: A long tradition of winning and an unparalleled closeness to the community. 2018 marks 100 seasons for the team, adding a unique aura to the upcoming shareholders meeting.
It is football's most unique franchise structure. Throughout history, the Packers have been financially supported by the fans through five stock sales. The most recent, launched in 2011, allowed 250,000 more people to proudly say they are part owner of the team.
The 2018 Annual Meeting of Shareholders, set for this evening, continues the tradition, while launching the team's year-long century-mark celebration (preferably capped with a Super Bowl victory in Atlanta).
Being the first Packers Shareholders Meeting scheduled at night in many years, it's predicted that more than 10,000 fans, from across the state and country, may be in attendance.
"I think the only more highly attended shareholder meeting is Berkshire Hathaway. They have more people, so maybe on our 100th anniversary we can break the record," Green Bay Packers president Mark Murphy said.
Shareholders arrive the day before the start of training camp and the "Packers Experience Festival," a free, four-day event boasting a replica locker room, live music, a Packers alumni Q&A, photo stations, a USA Football kids' clinic and more.

Are you a Packers Shareholder with 2018 game tickets to sell?
As the Packers are putting the offseason aside to renew their effort for another Lombardi Trophy, it is the time of year when both the team and its fans begin to prepare and plan! Tickets are in the mail, and season ticket-holders are plotting out which games to see, and which games to share. Using Event USA, letting others experience the football mecca known as Lambeau Field has never been easier!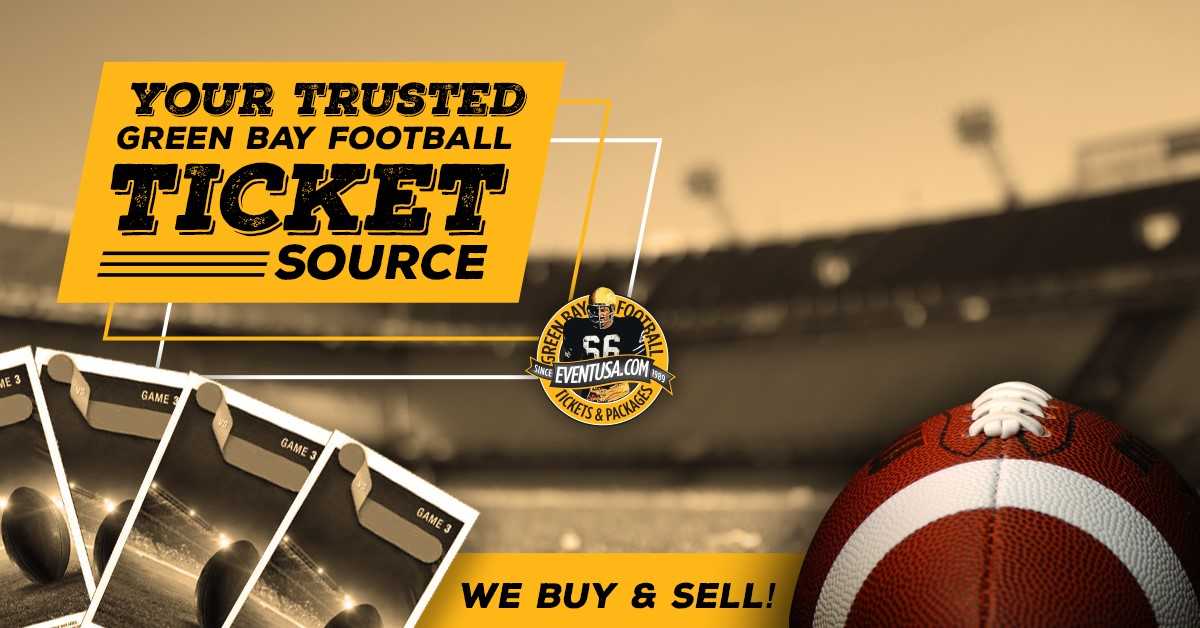 Payment is guaranteed: Forget the anxiety of listing tickets through ticket exchanges or auction sites and not knowing if they'll sell! When selling to Event USA, you will always be paid the full, agreed-upon ticket price.
Receive top dollar for your tickets: Event USA is committed to paying a fair, competitive price for every ticket. And unlike ticket exchanges, Event USA won't subtract commission or listing fees from your deal.
Get paid quickly: Sports ticket marketplaces, like StubHub, only pay sellers if and when their tickets are sold…with sellers often waiting a long time to receive payment, even if their tickets DO sell. At Event USA, you get paid immediately upon delivering your tickets to the company. You can even sell your Packers tickets to Event USA BEFORE they've been printed and sent out by the team and get money upfront!
No wondering, waiting & monitoring: When you attempt to sell your tickets on websites like StubHub, you are really consigning your tickets. There's no guarantee they will sell. You may have to constantly monitor the price as the market value of tickets rises and falls. And if Aaron Rodgers or some other key player goes down with an injury, and the ticket values plummet, yours will go down along with them. When you sell to Event USA, you get your price immediately…no wondering, waiting and monitoring.
Ticket protection: Selling your family's valued seats to someone you don't know can do a number on your nerves. Event USA offers peace of mind through its "Seat Loss Guarantee."
Sell your tickets at any time: Event USA buys tickets as soon as the schedule details are released in April and continues all season long, right up until the last game is played, but know that selling early usually means getting a better price!
Sell confidently and conveniently: Located about a mile down the road from Lambeau Field, Event USA offers a safe, secure and professional environment to sell tickets. Our reputation for excellent customer service is well-earned; you'll never have to worry about the logistics of selling directly again! Stop in, get a quote, and leave with cash!
Don't live in Green Bay? Event USA also purchases tickets over the phone. Tickets can then be sent securely from anywhere in the world!
Whether the game is months or days away, your extra Packers tickets can be sold to Event USA quickly, safely, easily and at a great price! Contact us today: 920.722.5377
---
Looking to buy Packers tickets? Event USA has everything you need to make your trip to the Frozen Tundra complete. Learn more.