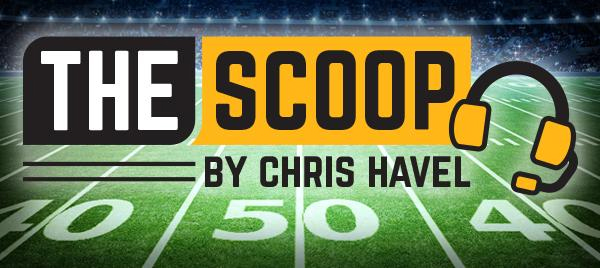 By Chris Havel
Special to Event USA
LaFleur's practices show good energy while players begin finding their way
GREEN BAY, Wis. – The Packers kicked off head coach Matt LaFleur's first training camp practice Thursday in front of about 2,000 fans at Ray Nitschke Field.
Comparisons between LaFleur and his predecessor are expected, to be sure, but so far I can tell you this: LaFleur is his own man.
Two obvious differences are that practices are shorter and conversations between the coach and quarterback are longer.
The Packers' first full pads practice Sunday went one hour and 50 minutes, whereas Mike McCarthy's lasted much longer.
Meet Kenny Clark, Aaron Jones and lots more Packers at our player receptions!
"I don't think a half-an-hour is going to matter come the season," LaFleur told reporters. "But if you lose a guy, that can certainly impact things. The places I've been, I think we can get the work that needs to be done in a shorter period of time."
Amen to that, coach.
In addition, it appears Aaron Rodgers and LaFleur are comfortable addressing questions as they unfold. It's that immediate clarification and/or correction that LaFleur is talking about when he says, "We've got to dig out the details."
In that spirit, here is what I've learned after four practices worth of detail digging:
** One of the best early matchups has been Davante Adams being covered by Kevin King. It was smooth on smooth. It also was reminder that both are supreme athletes.
Adams hauled in several passes despite tight – and I mean blanketed – coverage by King.
Thus far, Jaire Alexander and King are looking like the pair of bookend cornerbacks the Packers are hoping they become. King is still wearing a harness on his right shoulder, but he doesn't seem to be encumbered by it.
Meantime, Adams continues to amaze with his skill and attitude.
Quick note: When a player such as Cincinnati's A.J. Green endures a severe ankle injury on an allegedly not-NFL-quality surface in Dayton, it reminds Packers players and fans how fortunate they are to have top-notch facilities.
** Rodgers looks tremendous. He's engaged with his teammates and coaches while flashing that amazing right arm. Head to toe, Rodgers looks like he's fed up with missing the playoffs.
** Tim Boyle has been much more impressive than DeShone Kizer in their battle to be Rodgers' backup. Boyle's arm strength and accuracy are superior to Kizer's.
Unless Boyle's play doesn't translate to the preseason games, it seems pretty clear that he's ahead of Kizer for the No. 2 job.
** One challenge with LaFleur's scheme is all the pre-snap movement that's designed to put the defense back on its cleats. That's all wonderful unless the offense self-destructs with its own collection of pre-snap penalties.
The offense has been guilty of committing pre-snap penalties. Hopefully, that's just a natural part of the learning process. Fans love the deception, unless it sabotages their own offense.
** Justin McCray and Cole Madison have been working behind Corey Linsley at center. Furthermore, Madison has been especially effective in the one-on-one pass blocking drill.
Elgton Jenkins, the Packers' second-round pick, is lining up behind Lane Taylor at left guard – for now. The fact that McCray and Madison are working at center suggests Jenkins is in a serious competition to win the job at left guard.
** The offense's starting skill players, for now, appear to be Aaron Jones at RB, Jimmy Graham at TE, Geronimo Allison in the slot and Marquez Valdes-Scantling and Adams wide.
LaFleur has used them in a variety of formations. Often, they'll be spread out five across, which forces the defense to declare how it will match up. It's been effective thus far.
Also, LaFleur has lined up with Adams 2 yards off the line, just to the inside shoulder of the tackle. Adams has options, I'm sure, but several times he would find a seam and run a shallow crossing route. The defensive back is almost immediately in a chase position and Adams has made plenty of hay with this.
** Aaron Jones, Jamaal Williams and Dexter Williams all have shown their skills. Jones appears to be perfect for the scheme in that he's got a natural feel for how to press the defense effectively before hitting the cut-back lane.
Jamaal Williams appears leaner and quicker. He was playing well before being sidelined by a pulled hamstring.
Dexter Williams made an over-the-shoulder catch and completed the toe-tap before going out-of-bounds. He's got excellent hands, but needs work on adjusting to the offense. Unlike Jones, it seems Dexter Williams isn't quite as natural in terms of pressing the edge and cutting back. He'll learn, according to LaFleur.
"I think Dexter's starting to learn what this league's all about because early on he was really struggling at pressing things and was looking to cut back," LaFleur said. "If you pitter-patter in the hole at this level, you're hit in the backfield, and that's something we're going to continue to harp on him."
** Offensive players who have looked good include Trevor Davis, Teo Redding and Jawill Davis. All three can run like the wind, and LaFleur seems intent on using the jet sweep.
One of these three should make the roster.
I wouldn't discount Davis, who wears No. 1, and is cat-quick. I haven't seen him drop anything so far. His 4.3 speed is legit. Redding, who also is 6-1, is a bit slighter of build. However, Redding has to be one of the fastest players on the roster.
Trevor Davis is trying to overcome an injury-filled 2018.
Right now I really like Jawill Davis' game.
Meantime, J'Mon Moore continues to struggle catching it.
** On defense, first-round pick Rashan Gary flashed in the first one-on-one pass drills of camp. Gary (6-5, 277) is learning to combine speed and power – and he's got plenty of both.
"The one thing that I really like that he's shown is just the effort that he plays with," LaFleur said.
Preston Smith (6-5, 265) has shown a great awareness defensively while combining pass rush with the ability to set an edge against the run. Za'Darius Smith (6-4, 272) hasn't made any splash plays yet, but he certainly looks the part.
All three are 30 pounds heavier than Kyler Fackrell (6-5, 245) and just as fast, if not faster. Clearly, these four represent a significant upgrade in the pass rush.