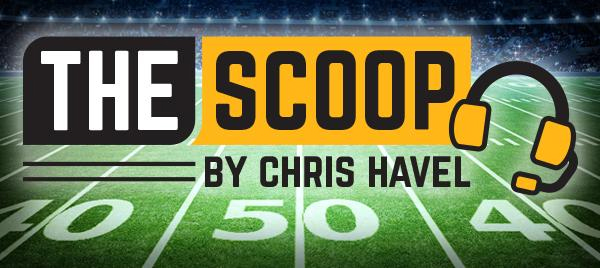 By Chris Havel
Special to Event USA
Quarterback's back stiffness a problem, but backups' lackluster play concerning
GREEN BAY, Wis. – Aaron Rodgers' lingering back soreness is cause for concern with the Sept. 5 season-opener in 17 days.
No less a problem is the offense's reaction to it.
While I can all but guarantee that the Packers' defense will be much-improved this season, I can't say it is strong enough to carry the team if Rodgers isn't available.
In fact, it's the offense that is more worrisome at this point.
Tickets!
Game Packages!
Tailgate Parties!
Meet Players!
Backup quarterbacks DeShone Kizer and Tim Boyle took turns directing a rag-tag practice Sunday while Rodgers sat out.
Frankly, it resembled the Packers' offense in a 26-13 loss at Baltimore last Thursday. On Sunday, J'Mon Moore dropped passes, Dexter Williams blew an assignment and the offense generally looked shaky at best.
Sadly, it is becoming business as usual, and it has to stop.
The Packers have a new head coach, a new offensive scheme and an influx of talent on the offensive line. Nevertheless, the offense looks lost without No. 12 on the field.
Haven't we seen this horror film before?
Kizer was a ho-hum 5-of-10 for 70 yards against the Ravens. The bright spot was that he didn't turn the ball over. But wait a minute … wasn't there a time when not committing turnovers was to be expected, not praised?
Boyle was 12-for-21 for 107 yards and a 7-yard touchdown to Darrius Shepherd. He hit Allen Lazard on pass plays of 21 and 25 yards after missing seven of eight throws in one stretch. Boyle is the purer passer of the two, but he also needs to command the offense better than he has to this point.
In fact, it was more of the same at Sunday's practice.
Packers head coach Matt LaFleur was ticked off at the offense's play in general, and Williams' early blown assignment in Sunday's practice lit the fuse.
"It wasn't like a play call coming out of left field," LaFleur said of Williams' gaffe. "It was something we had scripted. And when we get out there and we don't know what we're doing and we have a busted assignment, that's pretty irritating to me. It doesn't make sense to me."
It remains to be seen if LaFleur's butt-chewing of Williams made an impression, but the early returns aren't good. The Packers committed pre-snap penalties, dropped passes (it wasn't just Moore) and were choppy at best.
"It was pretty sloppy overall," LaFleur admitted to reporters. "That's why I said what I said in terms of if you miss somebody, the standards don't change."
Instead of embracing the opportunity afforded by Rodgers' absence, Kizer and Boyle have raised doubt about their ability to hold the fort without him.
The clock is ticking.
On a bright note, the offensive line and receiving corps appear to be finding their groove.
David Bakhtiari, Lane Taylor, Corey Linsley, Billy Turner and Bryan Bulaga played well at Baltimore. They pass protected exceptionally well, which is the most important development. Now that Aaron Jones and Jamaal Williams have been cleared to play, I would expect the running game to grow legs.
Rookie offensive lineman Elgton Jenkins was whistled for two penalties (both were iffy) but otherwise played well, too.
And the receivers are deep.
Davante Adams, Marquez Valdes-Scantling, Geronimo Allison and Jake Kumerow are showing the potential to be a fantastic foursome. Darrius Shepherd and Allen Lazard also appear to be on pace to win jobs on the 53-man roster.
Equanimeous St. Brown should be OK if the Packers keep seven receivers, and a now-healthy Trevor Davis has to make a big push here down the stretch.
Moore is all but a goner.
Defensively, the best weapon may be punter J.K. Scott.
Scott had six punts Thursday night and all were boomers. He averaged 52.8 yards (gross) and 44.3 yards (net) with a 5.02 average hang time.
Scott has proven to be a fifth-round draft pick well spent.
In terms of field position, his ability to tilt the field should be incredibly valuable this season.
Obviously, the Packers' defense needs to clean up the missed tackles. They had 24 against the Texans and followed it up with 19 against the Ravens. With any luck, the missed tackles total should be in single-digits in time for the regular season.
LaFleur said he intends to ramp up the "thud" tackling drills, and that appeared to be the case at Sunday's practice. We'll have to wait and see if it nets results Thursday against Oakland.
"We have to concentrate and have more concerted effort at thudding up and stopping the runner's feet," LaFleur said.
Meantime, Rodgers will rest his back and the team will carry on.
The Packers may not want to play him in Manitoba because of the FieldTurf surface. They also may play Rodgers in the Aug. 29 preseason finale at Lambeau Field.
"Yeah, that's something maybe we'd consider, but with the way our opener falls on Thursday, I don't know," LaFleur said. "I mean, I'd have to put more thought into that."
LaFleur said Rodgers has gotten "great work in" thus far.
A year ago, Rodgers played just seven snaps in preseason.
"You'd like to get him some game action, but again, he's a veteran guy who's played a lot of football," LaFleur said. "I mean, 14 years in the league, there's not much that he hasn't seen. So it's not overly concerning to me."
Rodgers' health may not be overly concerning, but some of his teammates' reaction to it is.