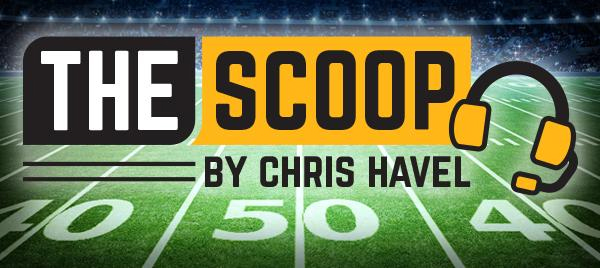 By Chris Havel
Special to Event USA
Rodgers throws for five touchdowns, notches perfect quarterback rating
GREEN BAY, Wis. – After a hard-fought 10-3 Week 1 win at Chicago, Aaron Rodgers declared, "We have a defense."
Six weeks later, I'd like to add, "You've got an O-Line, too!"
With more time to throw than it takes to trim his beard, Rodgers whistled while he worked over the Raiders' defenders, deftly zipping passes here, there and everywhere they weren't.
Meet Za'Darius and Preston Smith at our Players party November 9!
When Packers' head coach Matt LaFleur mercifully stopped Rodgers' aerial assault, backup QB Tim Boyle cheerfully traded his clipboard for a mop to finish up Green Bay's 42-24 victory.
Rodgers completed 25 of 31 passes for 429 yards and five touchdown passes – one for each offensive lineman – in the Sunday afternoon rout at Lambeau Field.
In the process, Rodgers proved Vince Lombardi wrong.
Green Bay's legendary coach once said, "We will chase perfection relentlessly, knowing all the while we can never attain it. But along the way, we shall catch excellence."
With Rodgers' receivers catching excellence, and Raiders' defenders chasing relentlessly but hopelessly, Rodgers did indeed attain perfection.
His perfect 158.3 passer rating was the first of his career.
"I still don't understand how they put that rating together," he said, "but it sounds pretty good."
The Packers' human blockade consisting of tackles David Bakhtiari and Bryan Bulaga, guards Elgton Jenkins and Billy Turner, and center Corey Linsley was equally amazing.
"Collectively, we didn't get enough push up front," Raiders defensive end Maxx Crosby said. "We didn't get in (Rodgers') face enough. We have to get to the quarterback to help our guys out on the back end."
Crosby had the Raiders' only sack.
The protection allowed Rodgers to survey the Raiders' defense as casually as he might a lunch menu: "I'll have five touchdown passes, a scramble for a score and a side of celebrations."
Rodgers' play was gourmet delicious and Packers' fans ate it up.
"Yeah, I think this was the most complete that I've played," Rodgers said. "I felt good about the timing. There were a lot of balls thrown on time, and obviously the line played fantastic."
Rodgers completed passes to eight different players.
Jimmy Graham hauled in four passes on four targets for 65 yards and a touchdown. Geronimo Allison, who was coming off a concussion, caught four passes for 33 yards.
MVS also played while dealing with knee and ankle injuries.
"We had a lot of guys step up; specifically Marquez and G-Mo," LaFleur said. "Shoot, two days ago, we didn't even know if they were going to play, and I thought those guys came and put together gritty performances."
With All-Pro receiver Davante Adams (turf toe) still sidelined, that's what teammates do on winning teams. They continue to play with and for each other.
Then there's No. 12, who showed the Packers' newcomers precisely why he is considered among the all-time great QBs.
Even LaFleur said Rodgers continues to amaze him.
"A lot of times that ball leaves his hand … I'm always like in awe," LaFleur said. "So yeah, he's pretty good."
The Packers (6-1) are pretty good, too.
The NFC North leaders are considered among the conference favorites along with New Orleans and San Francisco.
The Raiders (3-3) were pesky in the first half.
Rodgers' 2-yard touchdown pass to Jamaal Williams gave Green Bay a 14-10 lead with 3:27 to play in the first half. The Raiders' Derek Carr answered with a 48-yard completion to tight end Darren Waller to the Packers' 3-yard line.
Here's where the Packers' defensive hustle paid dividends.
First, Will Redmond's hustling tackle ultimately saved a touchdown when he brought Waller down at the 3.
Second, Blake Martinez's desperate but determined dive to keep Carr from scoring also paid off. With Martinez in pursuit, Carr reached for the pylon with the ball in his left hand. It squirted free for a fumble and went into the end zone for a touchback.
Instead of trailing 17-14, the Packers got the ball back at their 20-yard line with 1:49 to play in the half.
Rodgers capped the seven-play, 80-yard drive with a 37-yard touchdown toss to Jake Kumerow to make it 21-10.
The Packers received the ball in the second half and Rodgers wasted no time hitting Marquez Valdes-Scantling for a 59-yard completion. Four plays later, Rodgers scampered in from the 3 to push Green Bay's lead to 28-10.
The Packers' defense surrendered 484 yards, including Josh Jacobs' 124-yard rushing performance, but it stood tall when it mattered most. The Raiders were 3-for-6 in the red zone, with all three failures resulting in no field goals and zero points.
Kevin King's end zone interception thwarted one red-zone drive, and the Packers' goal-line stand erased another.
Carr's fumble at the pylon enabled the hat trick.
Carr completed 22 of 28 passes for 293 yards and two touchdowns, but his two turnovers proved costly.
Now, the Packers must prepare for a Sunday night encounter with Andy Reid's Chiefs in Kansas City. The Chiefs (5-2) will be without star quarterback Patrick Mahomes.
Capable veteran Matt Moore will start in his place.
It's not always who you play, but rather when you play them.
Surely, the Packers will be favored over the Chiefs minus Mahomes in what begins a rugged stretch. They play four road games in the next six weeks, including one at home and the bye.
In July, the Packers' upcoming stretch of games appeared difficult if not impossible to navigate.
Today, it seems quite doable.