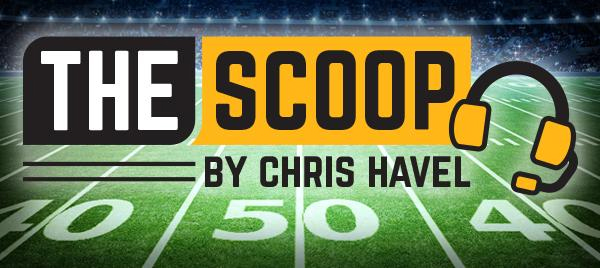 By Chris Havel
Special to Event USA
Rodgers' precision passing, use of RBs too much for Kansas City in 31-24 win
GREEN BAY, Wis. – It's all about the art of adjustment.
The Packers' offense actually has improved (more diverse, less predictable) since it lost All-Pro receiver Davante Adams to a turf toe injury four weeks ago.
When Adams returns, perhaps for this week's Chargers game, Green Bay's offense may be unstoppable.
The Packers' 31-24 victory over the Chiefs at Kansas City Sunday night illustrated the point.
Tickets and packages for games on sale! And meet the Smiths, Jamaal Williams, and many other players at our parties!
The Chiefs' defensive game plan was fairly apparent. They lined up in man coverage, mugged the Packers' receivers at the line and blitzed Aaron Rodgers. The thought was to create enough doubt in the receivers' minds, and enough pressure on Rodgers, to disrupt the passing game's rhythm and force mistakes.
And it worked, but only to the degree the Packers allowed it.
The Chiefs hadn't accounted for the Packers' not-so-secret weapon, a triple-threat running back (run, catch and block) and touchdown maker by the name of Aaron Jones.
Packers head coach Matt LaFleur knew he needed to get the ball out of Rodgers' hands as quickly as possible, so he called on Jones and Jamaal Williams to catch it out of the backfield.
They combined for three touchdown catches, including two by Jones, who was simply electric.
Jones ran 13 times for 67 yards and caught another seven passes for 159 yards and two touchdowns. The 5-foot-9, 208-pound speedster grabbed a 4-yard touchdown pass to open the scoring, and he caught a 67-yard touchdown pass to close it.
In between, Jones was sensational. He even showed toughness by battling through a shoulder injury in the first half.
"He's very talented," Rodgers said. "And I think this scheme is giving him the opportunity to do a lot more out of the backfield. You know, we're splitting him out and throwing the ball to him. We kind of caught lightning in a bottle there a couple of times. Hit him on a slant-and-go for 50 and on a screen pass for 70 or whatever. He's a talented guy. I'm very proud of him."
Afterward, a beaming Jones told reporters he caught "thousands" of passes at home during the offseason to prepare for LaFleur's offense, which requires running backs to catch it.
"I caught good balls, bad balls, high balls, low balls," Jones said.
On Sunday night, he caught seven passes on eight targets. Clearly, all that hard work under the Texas sun has paid off for the former the UTEP star.
"He's an explosive weapon," LaFleur said. "You don't find too many running backs that you can put them on the outside and run a slant-and-go. I think he's dynamic as a runner, a receiver, a pass protector."
Rodgers called the Packers' way their winning "interesting."
Indeed, it is.
The Packers are winning despite Adams' absence because they're playing as a team. Adams, the ultimate team player, will be the green-and-gold icing on top of the cake when he returns.
Meantime, the depth behind Adams is developing with each passing week.
Allen Lazard (five catches, 42 yards) and Jake Kumerow (two catches for 48 yards) are improving with every snap. The more they play, the better they'll be when Adams returns.
Experience matters, so long as you make the most of it. Lazard, Kumerow and the rest are doing exactly that.
LaFleur's got a good thing going and he knows it.
"I totally trust our quarterback," he said, "and I trust Aaron Jones as a receiver. He made some great plays all night long."
The Packers opened a 14-0 lead only to see the Chiefs – led by backup quarterback Matt Moore – put up 17 unanswered points to go up 17-14 at the half.
When Patrick Mahomes was sidelined with a dislocated kneecap last week, Moore stepped in to finish the game. With a week to prepare, he played extremely well.
Moore completed 24 of 36 passes for 267 yards, two touchdowns and a 107.l passer rating. It was his first NFL start in more than two seasons. He had been a high school assistant football coach before Chiefs head coach Andy Reid called upon him in August.
"We played hard and aggressive," Reid said. "But you know what? When two good teams play each other, sometimes a turnover here or there can affect you and that's a little bit what happened tonight. But we can all do better, starting with me and my guys."
After the Packers tied it at 17-17 on Mason Crosby's 35-yard field goal in the third quarter, LeSean McCoy fumbled on the Chiefs' next possession.
Five plays later, Rodgers hit Williams on a 3-yard touchdown pass to make it Green Bay 24-17.
Undaunted, the Chiefs strung together a 10-play, 75-yard touchdown drive to tie it at 24-24.
The Packers responded with their own 75-yard touchdown drive, except it took just two plays, capped by Jones' 67-yard catch and run on a beautifully designed screen pass.
The Packers forced the Chiefs to punt on their next possession, and Kansas City never got the football back.
Alex Light, the Packers' backup tackle, deserves kudos for handling three snaps at left tackle while David Bakhtiari went out briefly, and 13 snaps at right tackle to finish the game when Bryan Bulaga left with an injury to his right ring finger.
Bulaga expects to play against the Chargers.
Packers' defensive tackle Tyler Lancaster also merits praise for his forced fumble and recovery of McCoy's miscue.
"I figured I wasn't going to make the tackle so I reached my arm out," Lancaster said. "I had no idea that I knocked it out but the ball came rolling to my chest and lo and behold I got the recovery as well."
The Packers (7-1) play three of their next four games on the road. They are at the Chargers before hosting Carolina. After their bye week, they're at unbeaten San Francisco before traveling to New York to face the Giants.
Rodgers, who was 23 of 33 for 305 yards and three touchdown passes, is playing at an MVP level. Based on his first-half numbers, Rodgers is on pace to throw 32 touchdown passes to two interceptions for 4,684 yards and a 65.4 completion rate.
Along the way, Adams will return and the offense will be at full strength, presumably for an NFC showdown at San Francisco.
In the words of ex-Ravens linebacker Bart Scott: "Can't wait!"