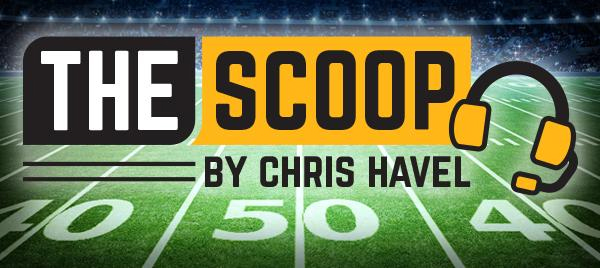 By Chris Havel
Special to Event USA
LaFleur's lackluster offense fails miserably while Green Bay's 'D' bends, then breaks
GREEN BAY, Wis. – Matt LaFleur figured it was a good idea to depart Friday for Sunday's Packers-Chargers game in Carson, Calif. An even better idea would have been returning Saturday.
The Packers never showed up in an embarrassing 26-11 loss to the Los Angeles Chargers.
Green Bay's offense muddled its way to a season-low 184 total yards at Dignity Health Sports Park, where at least they left with their health still intact.
Obviously, LaFleur's game plan is ripe for criticism.
Carolina at Green Bay this weekend....tickets, tailgate party, player party Saturday night!
The trick is identifying what the plan was in order to criticize it. The Packers ran five plays for 7 yards in the first quarter. They possessed the football less than four minutes. They were flagged for three false-start penalties despite the cozy confines.
Then it got ugly.
That is unless you're a masochistic Packers' fan who favors death by field goal.
It was Chargers 3-0 after their first possession. It was Chargers 6-0 after the first quarter. Then it was 9-0 … and 12-0.
While Chargers kicker Michael Badgely risked repetitive stress syndrome, Packers' fans were just plain stressed.
The passing game was ineffective; the running attack invisible.
The Chargers' defense employed the most basic strategy. It rushed four and dropped seven into coverage. It worked primarily because two of the four that rushed were Joey Bosa and Melvin Ingram III, who had 1 ½ sacks each.
It was hardly the offensive line's finest three hours.
Rodgers was harassed constantly.
Aaron Jones rushed a non-descript eight times for 30 yards. Jones' long run of the day was 7 yards. He caught one pass for minus-1 yard.
Rodgers' passing numbers hardly bear repeating. Nevertheless, and for the record, he was whatever for whatever with not enough yards and only one touchdown.
Actually, Rodgers was 23 of 35 for 161 yards, so like I said …
Davante Adams must've thought he was in the wrong huddle. Nothing that occurred against the Chargers resembled what he'd seen in the Packers' previous four-game winning streak.
After a month-long absence with turf toe, Adams' return was as unremarkable as the Packers' performance. He caught seven passes for 41 yards on 11 targets. His long catch was 9 yards. He remains touchdown-less this season.
The receivers were as non-threatening as a litter of kittens.
Allen Lazard caught three passes for 44 yards and Geronimo Allison chipped in with two catches for 21 yards. Jake Kumerow and Marquez Valdes-Scantling were shut out.
The Chargers (4-5) resembled the 12-win playoff team from a year ago for the first time this season.
The Packers (7-2) can take solace in the fact that every other NFC North team also lost. On the other hand, they should be ticked at missing a chance to grab the division by the throat.
Rodgers suggested the team could use its comeuppance.
"This was a good slice of humble pie for us," he said. "We're kind of rolling, 7-1, and starting to listen to the chatter maybe a little too much. I think this will be a good thing for us."
The Packers' execution was poor and their effort suspect.
"We just couldn't get that spark that we needed," Packers cornerback Tramon Williams told reporters. "We were looking for it to come from somewhere, but we just couldn't get it for whatever reason. But at the same time, we need games like this.
"We're going to be better from it."
After the game, Jaire Alexander was asked what negative effect the loss would have on the defense's confidence.
"None," he replied. Then he spelled it out, "N-U-N none."
Perhaps Alexander doesn't want it to become a habit.
Rodgers is all for exploring the team's approach on the road.
"We've got to be honest with our routine and the decisions we made in the last 48 hours, and make sure that our head is in the right place the next time we come on a big road trip," he said.
"I don't think it was complacency at all," Rodgers continued. "I just think whether it was the trip, not everybody taking care of themselves the right way over the two days, or we were just tired, or the differences in temperature. But those are just excuses, and the facts are that we just weren't locked in from the start, and that's a little disappointing."
For his part, LaFleur acknowledged the poor performance and accepted the blame.
"I've got to do a lot better job of putting our guys in position, because we really didn't even get into the game plan," he said. "It was a spread, throw-it-all-over-the-yard kind of game, and that's not what we want to be."
The Packers punted on each of their three first-half possessions. They finally scored a touchdown on a Rodgers-to-Jamaal Williams 10-yard pass with 6:21 to play.
The Packers also had a punt blocked, which set up the Chargers' first touchdown to make it 19-0 in the third quarter.
By then, it was pretty much over.
The Packers mustered just six first downs and 69 yards through three quarters, while the Chargers' offense played keep-away.
"It was a frustrating day," LaFleur said. "We just have to hit the reset button, like we say every week, and get back to the drawing board … just be more prepared for these situations."
The Packers won't have long to wait.
The Carolina Panthers and Christian McCaffrey present another legitimate challenge this Sunday at Lambeau Field. Driven by the recent humiliation, and the fact that all the garbage should be out of their system, I suspect the Packers will be sharp.
Then again, I thought that Friday when the Packers flew out.