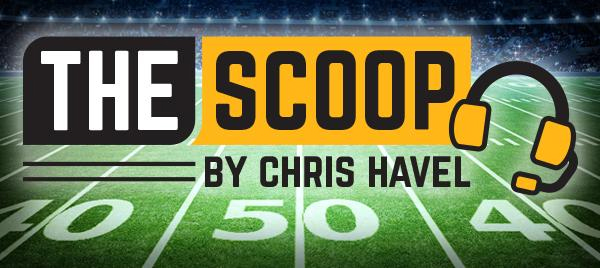 By Chris Havel
Special to Event USA
Green Bay's defense gets three picks; Rodgers throws for four TDs Sunday
GREEN BAY, Wis. –Much of the media coverage reflected what a fair number of Green Bay fans were thinking: The Packers' 31-13 victory over the Giants left a lot to be desired.
It might have been pretty from afar, but it was far from pretty, and so forth.
Naturally, fans would've preferred a 40-point blowout Sunday at snowy MetLife Stadium as opposed to the ho-hum 18-point win.
Lots of ticket choices for Sunday at low prices
Meet Jamaal Williams and Allen Lazard on Saturday night
And best tailgate in Titletown this Sunday!
They would have liked to see Aaron Jones and Jamaal Williams combine for 150 yards rushing and another 100 yards receiving. They would have enjoyed watching the defense dominate from start to finish while pitching a shutout.
Yet despite being the "hapless" and "lowly" Giants – the media's description – the Packers didn't make that happen.
Some say they let the Giants (2-10) hang around too long.
I get it.
It wasn't until early in the fourth quarter that Green Bay (9-3) actually took control of the game, and then it wasn't easy.
Aaron Rodgers kept a late third quarter drive alive by hitting Geronimo Allison for a 15-yard completion on fourth-and-10 at the Giants' 35-yard line. Rodgers was going down under pressure when he released the perfectly placed dart.
Then, Rodgers hit Davante Adams for a 17-yard touchdown on third-and-goal while catching the Giants with 12 men on the field for a free play. Instead of settling for a Mason Crosby field goal and a seven-point lead it was 24-13 and a two-score game.
"We feel like we should win a game like that against that opponent," Rodgers said. "They've been struggling this season. You still have to go out and execute. They get paid, too. There's a lot of pride on that football team and a lot of good players.
"It was important for us to get a good road victory in a game that you all expect us to win, and that we expect to win."
The Packers expected to win, but did they meet expectations? To be honest, I understand the criticism, but only to a point – the point being they won with something to build on going forward.
So here's what the Packers didn't do well:
** They didn't defend the tight ends or the middle of the field particularly well. The Giants' third-string tight end, Kaden Smith, hauled in six passes for 70 yards on eight targets. It makes me wonder what the 49ers' George Kittle would've done … uh, never mind.
** They didn't commit a turnover, but they did fumble twice, including once in the return game. Treman Smith is beginning to wear on my patience.
** They didn't register a sack of the Giants' Daniel Jones and Saquon Barkley managed a total of 115 yards from scrimmage.
Obviously the Packers have work to do. To be fair, everyone knew that going into Sunday's game. No one in their right mind could expect everything to be "fixed" in a single afternoon.
Now, let's examine what the Packers did well in their so-called "get right" game:
** Rodgers reminded everyone that the Packers remain a "pass first, run second" offense in a pass-happy league. That's not altogether a bad thing, especially when you have No. 12.
Rodgers completed 21 of 33 passes for 243 yards and four touchdowns for a 125.4 passer rating. He wasn't sacked.
He embraced the snowy conditions while re-energizing the Packers' occasionally dormant passing attack.
"I loved the conditions," Rodgers said. "I admit I was a little worried that it might be more rain than snow. When those big flakes were falling down, I felt pretty good about our chances."
The fact is everyone feels pretty good about the Packers' chances, be it rain, sleet or snow, when Rodgers is on his game.
The plain truth is this: If the Packers are going to compete with and ultimately defeat the best teams in the playoffs, their greatest chance rides on Rodgers' right arm.
When defenses fear Rodgers, they tend to lose sight of the Packers' one-two punch of Jones and Williams. That's when fans will see the running backs' production soar.
** Rodgers re-established Davante Adams' dominance in the red zone. Along the way, a solid No. 2 receiver emerged in Allen Lazard.
For his part, Adams looks more comfortable all time. He caught six passes (10 targets) for 64 yards and two touchdowns. Both of his touchdown grabs came in the red zone.
According to ESPN, Adams now has 29 touchdown catches in the red zone since 2016. That is tops in the NFL, ahead of the Saints' Michael Thomas with 25 in the same span.
Lazard notched his first 100-yard receiving day.
He hauled in three passes (three targets) for 103 yards and a touchdown. Lazard's 37-yard touchdown catch gave the Packers a 14-7 lead late in the first quarter.
Adams had 52 snaps, with Allison (42) and Lazard (37) divvying up the rest. Marquez Valdes-Scantling participated on just 18 snaps and didn't have a catch.
The receiver's pecking order is Adams and Lazard, with Allison, MVS and Jake Kumerow sharing the leftovers.
** The Packers made a concerted effort to get Jones and Williams the football. It produced so-so results, but it was a necessary step in the right direction.
Jones had 11 carries for 18 yards. He caught four passes for another 13 yards. Williams fared a bit better, rushing 10 times for 41 yards and adding four catches for another 26.
They combined for 59 yards rushing and 39 yards receiving on 29 touches. That's only 3.4 yards per touch, but with increased frequency and execution the production will follow.
** The Packers' Bryan Bulaga displayed a veteran's toughness by handling 96 percent of the snaps less than a week after incurring a right knee injury.
Meantime, GM Brian Gutekunst didn't sit idly by. He coaxed massive offensive tackle Jared Veldheer (6-8, 315) out of retirement and into a Packers' uniform.
It's a wise late-season insurance policy.
** Finally, while the Packers' defense didn't notch a shutout, it did hold the Giants to just 13 points while intercepting Jones three times. Darnell Savage, Kevin King and Tramon Williams each got one. The Packers are 8-0 when they force a turnover.
Za'Darius Smith also continued his rampage with five QB pressures. It gives him a league-high 47 on the season with no letup in sight.
No, the Packers weren't perfect on Sunday, but they took several significant strides toward improving what ails them. They've got the Redskins on Sunday at Lambeau Field, another opportunity to build on the good and fix the bad.
In the words of former Kansas City Chiefs coach Herman Edwards, "You play to win the game."
In the Packers' case, it's not just about playing to win the game from here on out. It's also about how they play.
On Sunday, the good far outweighed the bad. And no, it wasn't perfect, but it was a good step in the right direction.