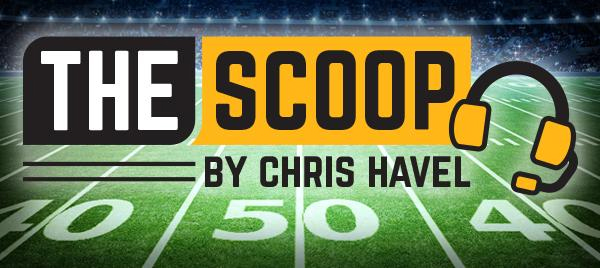 By Chris Havel
Special to Event USA
Green Bay's defense forces three TOers; Jones, Adams score 3 TDs in 21-13 win
GREEN BAY, Wis. – If you're conflicted by a Packers' season that's at once exhilarating and exasperating, here's some advice: Don't be.
It's true that each week the Packers give hope to their foes, if not their fans, only to prevail in extraordinarily ordinary fashion.
The Packers' 21-13 victory over the Bears Sunday at Lambeau Field is the most recent example.
Packers in the playoffs! Tickets and packages on sale soon!
The Bears had a chance to put a dent in the Packers' season right up to the final play, an absurd impromptu recreation of "The Play" – the Cal-Stanford finale – minus the marching band.
"I think I blacked out there for a second," Green Bay coach Matt LaFleur said. "There were so many laterals. I couldn't tell. I was just hoping that someone was going to make the tackle."
As comical as its conclusion, the Bears came into the 200th game between these historic franchises as no joke.
Chicago (7-7) had won four of its last five, and Mitchell Trubisky was beginning to faintly resemble an asset, rather than a liability, to the offense. All the while, Chicago's defense remained strong.
The Bears had hope; the Packers had doubters.
They had defeated the Giants, 31-13, and it was all about how they allowed an awful team to hang around into the fourth quarter. They beat the Redskins, 20-15, at Lambeau Field, and the five-point win elicited as much anxiety as enjoyment.
With all that noise, the Packers still outplayed the Bears on Sunday to sweep the season series.
It should be cause for celebration, and it is among most fans, but it also has triggered consternation.
It's almost as if some Packers' fans are hesitant to take that "Lambeau Leap" with this year's team.
The question is why?
Clearly, the Packers' margin of victory is less than eye-popping. Furthermore, the Aaron Rodgers-led offense isn't nearly as explosive – at least in the passing game – as it has been.
Green Bay's wins fail to elicit adjectives like "convincing" and "dominating" but rather "oh" and "kay." The Packers have managed a neat trick: They somehow lower expectations while continuing to exceed them with each victory.
They are 11-3 and counting … but who's counting? Or rather, should Green Bay be counted among the NFC's best teams?
If you have to ask, you haven't been paying attention.
Records don't lie.
They don't when it's mid-December and the Packers are healthy, ascending and assured of a playoff berth.
The Cowboys' 44-21 romp of the Rams Sunday afternoon, coupled with Green Bay's win, clinched a postseason berth. The Falcons' 29-22 upset of the 49ers should give Green Bay confidence if it earns a rematch in Santa Clara, California.
That's "if" the 49ers are the No. 1 seed.
Right now, the Packers are the NFC's No. 2 seed and rising.
Packers head coach Matt LaFleur has the most wins (10) in franchise history by a first-year head coach. LaFleur also is the inaugural first-year head coach to reach the playoffs.
The cynics, skeptics and critics have their reasons to see the Green Bay Packers' 11-3 record as a mirage.
There's a fair chance they'll be wrong.
If the Packers' identity is "winning ugly" so be it.
The difference between today's Packers and the teams when Aaron Rodgers was a younger man is this: Now, we see the Packers holding a lead while their defense tries to seal it.
It's the opposite of what we're used to seeing: Rodgers rallying his team from a deficit with a magical performance. In that scenario, fans go away saying, "Whew! That was close, but Rodgers is amazing and our team can beat anyone."
On Sunday, the Packers' defense closed it out with a scrum.
Frankly, the fact that Rodgers was watching from the sideline, as opposed to being asked to perform miracles, is improvement.
"I think we have a bunch of guys that are going to fight for every inch out there and that are resilient and that care about each other," LaFleur said. "What I love about this team is these guys have embraced their roles."
They also have embraced winning.
LaFleur's efforts to affect the football culture are paying dividends. The front office's willingness to pay free agents – and to recruit free agents that fit here – is also reaping success.
The Packers appear to be rallying around the fact that their "less-than-impressive" wins disqualify them for playoff success.
"I love being 11-3," Rodgers said. "I think the performance was a little up and down but I thought we did some really good things. We've just got to be a little bit more opportunistic when we have opportunities."
Rodgers' numbers were average.
He completed 16 of 33 passes for 203 yards, one touchdown, no interceptions and a 78.2 quarterback rating. He was sacked once, and came within two passes – a Marquez-Valdes Scantling drop and misfire to Jimmy Graham – of having a huge day.
There were some bright spots.
The offensive line was terrific. Aaron Jones and Jamaal Williams were solid, certainly good enough to win.
Kenny Clark had two sacks and Rashan Gary added another. It was promising that Preston and Za'Darius Smith didn't have to provide all of the Packers' pass rush.
Furthermore, Dean Lowry had an excellent interception, and Tyler Ervin has solidified the return game.
The wins haven't been pretty, but there's no reason to apologize.
"I'm not going to walk out of here with my head down being 11-3," Packers' right tackle Bryan Bulaga said. "It's just not going to happen. We haven't been in this position in a while, being 11-3. While there's a lot that we can improve on and get better at, 11-3 is a hell of a position to be in at this point of the season."